Creating lists of places with resources for your community.
About this event
Join us Saturday, July 17th, for a virtual hackathon to help communities in YOUR area by doing what we do best - SHARING OUR POWER.
During the hackathon, teams will create a list of places in Google Maps that offer services and resources for communities in their area. This can be everything from businesses that have family restrooms (or changing tables in both the Men's and the Women's restroom), to addiction treatment facilities.
This event was inspired after reading an article in Mashable about a woman (Ashley Sundquist) who took a chance to help a fellow human and made a lasting impact on the lives of the homeless population in her community.
Here are a few that Ashley built for her local LA community:
Event Overview:
Teams can be created from 1-10 individuals located in the same geographical area. Co-Ed teams welcome!
Lists must be made of a minimum of 4 businesses, organizations, or public locations with a Google listing.
Topic/Theme of List can be anything in support of a community informing them of available resources
Examples of communities: homeless, teens, LGBTQ+, moms, veterans, addicts, POC, deaf/hard of hearing, seniors, etc.
Examples of resources: Food Banks, Shelters, Clinics, EBT friendly, Sensory Friendly, Handicap Accessible, free/low-cost entertainment, Kid Friendly, Dog Friendly, etc
Each team must create at least ONE Google Maps list and ONE awareness campaign to share their list with their targeted community.
The Day's Agenda:
11am ET - Welcome // Event Overview & Rules
11:15am ET - Mentor Panel Introductions
11:45pm ET - Teams dispersed for brainstorming
12:50pm ET - Mentor check-in with teams
1:00pm ET - Teams start building lists of places using Google Maps & plan awareness campaign for lists
2:30pm ET - Teams join Mentor Panel in the main room to share lists created
3:00pm ET - Conclusions and Thank Yous
Mentor Panelist:

Ashley Sundquist | Co-Founder, The Sundquist Company LLC
Blog | LinkedIn | Instagram | Facebook
Ashley began her career as an editorial intern at Us Weekly magazine and then in radio production at Martha Stewart Living, both in New York City. Ashley's first job after college was as a public relations associate and then as a relationship manager at The Advisory Board Company in Washington, D.C. After leading her department's fundraising efforts for a school they were visiting on an incentive trip to Jamaica, Ashley realized her passion for nonprofit work. Ashley joined the team at Children's National and specialized in corporate fundraising where she managed a portfolio of $1.5 million dollars and worked with donors like Costco and Walmart. Among her proudest professional achievements, Ashley launched a fundraising initiative called "Milagros para Niños" to raise awareness of the hospital's robust Latino patient community and launched the hospital's first-ever Latino Leadership Council to govern patient experience improvement efforts. Ashley hosted fundraising events at the private homes of two Latin American ambassadors and forged the hospital's first relationships with Spanish-language television networks, Univision DC and Telemundo. After moving to California, she became the first (and only) woman at a tech start-up where she kept 150+ nonprofit clients happy. In 2018, Ashley joined forces with her husband Josh Sundquist to manage client relationships and operations for Josh's career as a motivational speaker and comedian. In addition, Ashley works closely on multi-platform social media influencer campaigns with corporate clients like ASICS, Tommy Hilfiger, and Nissan and co-produced Josh's live comedy show, "We Should Hang Out Sometime." In addition, Ashley is a yoga instructor and an active volunteer with Vintage Church in Santa Monica. Ashley teaches Sunday School to preschoolers and leads the church's weekly community dinner for 150+ homeless neighbors. Because of her work with the homeless community, Google honored her in December 2020 with an inaugural "Guiding Stars" award and recognized her as one of just three "Helpful Hero" award recipients worldwide.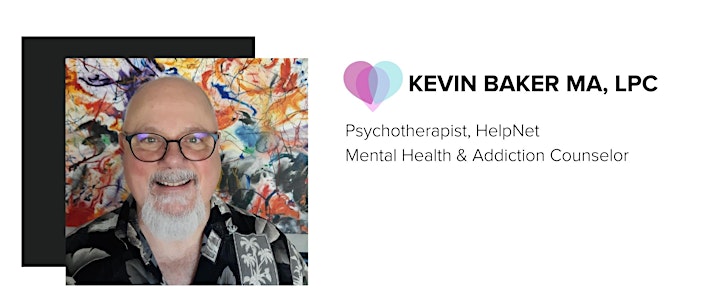 Kevin Baker | Psychotherapist, HelpNet
Kevin Baker MA, LPC, attended Spring Arbor University for both his Bachelor's in Management and Organizational Development and his Masters in Counseling. Kevin is a Psychotherapist at HelpNet and has special interests in emotional, behavioral, mental health and substance use disorders. He works with couples or individuals to create healthy boundaries and enhance communication skills. Kevin handles substance use issues by also assessing for co-occurring mental health, behavioral health, and emotional-personality disorders. Kevin enjoys being able to help people when they need it most at no cost to the client. When Kevin is not at work you can catch him with his family, traveling or in his many gardens.

Sponsors:


Facebook | Instagram | Twitter | LinkedIn
Our human-centered, engaging analytics automation platform unifies analytics, data science, and process automation together in one solution to help you harness that flood of complex data to quickly solve real-world problems.​
The Company Powering Analytics Automation
Learn more at https://www.alteryx.com/

Who We Are
Together, we inspire and empower one another through our sharing of knowledge. Our members report they feel more confident and more equipped to elevate their career at a faster pace.
We are the network where women help women succeed in digital - and life.
Not a member? Join Today.
When you register for this event, you are accepting an opt-in to our marketing and communication about the latest news and events. You will be able to unsubscribe to that communication.
Organizer of Lists for Good Hackathon | Together Digital