Description
Join us for networking and presentations from LISTnet member companies. Meet the companies presenting as well as others in the LISTnet community and make some great business connections. We start with general networking, then each company does a short presentation followed by Q and A from the audience. Learn things you didn't know about Long Island Companies, meet new people and hang out in the Digital Ballpark.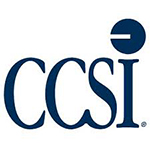 CCSI
CCSI helps companies overcome challenges and identify opportunities to acheive exceptional results. CCSI is a leading provider of technology services and solutions, bringing value and collaboration to companies.
For more than 40 years, Contemporary Computer Services Inc (CCSI) has provided clients in both the private and public sectors with a rock solid foundation on which to secure their organization's future. They recognize that every client and every industry is unique. Therefore, they never take a cookie-cutter approach when designing IT solutions. In fact, they consider it their responsibility to find the strategy that suits each client's individual needs.

Midknight Genius
Midknight Genius is a brand consultancy and digital marketing agency, meaning if you have a product or service you want people to know about, they find the path to success. They are your guides to a shifting landscape of digital marketing. If that means building a website, hunting for a new audience, or starting a social media campaign, they are the people who can get it done. They are creators, designers, writers, builders, doers, and more...



LA Technology Group
LA Technology Group has positioned itself as a sub-contractor to both local and nationwide integrators, general contractors and other low voltage cabling companies. Over the years, LA has formed strategic alliances and focuses on the long-term relationships with all of their associates and looks to grow with them. As they have grown they have expanded their core services to provide a one stop shop. When dealing direct their approach is to understand their clients' business and their growth plan to make sure that they are getting a solution that meets current and future needs without having to two step or over spec a project.