Share your stories and insights on growing up, culture, and your ideas on ways to connect LGBTQ+ folks!
About this event
A Listening Session for LGBTQ+ Folks
About the challenges and triumphs of growing up LGBTQ+
As HopeWorks continues to grow and center our work around creating a world free from violence, we understand the importance of community in creating authentic connection. When we feel safe to be who we were meant to be, joy will flourish.
LGBTQ+ folks are invited to this listening session to share your stories and insights on growing up, culture, and your ideas on ways to empower each other and create community!
This listening session aspires to be a place that: supports LGBTQ+ voices, provides an opportunity to help shape programming, and solidifies an empowered and equal partnership in the feminist movement.
Date: Sunday, May 17th, 2020
Time: 10:30 am - 12:30 pm
Location: Zoom Platform
How It Works
After you register, you will receive a confirmation email containing the link to join the event on Zoom. We will also provide a phone number and password if you want to call-in instead.
You are not required to create a Zoom account or install special software to attend. You can use any computer to join via the link, or call-in from any mobile or landline phone. (It's recommended that you have a reliable internet connection or cell phone service!)
At the time of the event, just click the link or call-in!
New to using Zoom? Check out our guide for tips and instructions!
Accessibility
Our goal is to make virtual events as accessible as possible, however we are still learning how to use Zoom ourselves. The chat box feature will be available during this event. Unfortunately, at this time, we do not have the option for closed captioning during live events. If you have any specific questions, concerns, or suggestions about access please contact us.
Questions?
Contact Maya Carey, Volunteer Program Coordinator, at MCarey@Wearehopeworks.org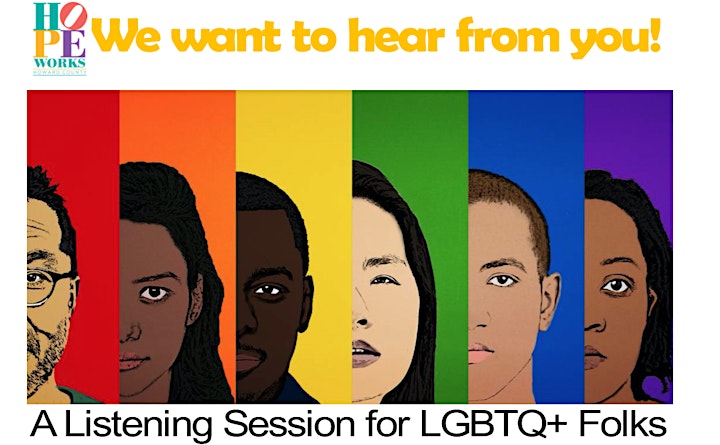 Organizer of Listening Session for LGBTQ+ Folks