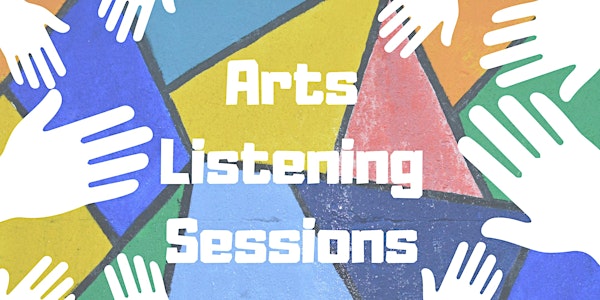 Listening Session - Art Spaces
Date and time
Tuesday, September 18, 2018 · 12 - 2pm EDT
Location
Bromo Seltzer Arts Tower 21 S Eutaw St Baltimore, MD
Description
Please join us for a small group conversation about arts and culture in Baltimore, and the infrastructure we need for arts and culture to grow and thrive. We will to discuss what's working, what's missing, and what solutions would enable creatives to realize their visions of success.

We are inviting artists, arts services, spaces, funders, events, programs, institutions, community orgs, and connectors to share their perspective.

On Tuesday Sept 18 from 12 to 2pm, the Baltimore Office of Promotion & Arts (BOPA) will host a listening session with Arts Spaces at the Bromo Seltzer Arts Tower (21 S Eutaw St). Our discussion will last 60 to 90 minutes. We ask that everyone plan to arrive promptly at noon so that we have time for networking & informal discussions at the end. BOPA will provide refreshments & snacks !
This is an opportunity to influence resource allocation and strategic priorities citywide. Please consider lending your voice to this conversation. Register here to let us know you will be there and to receive reminders.

If you are not able to make this date, but want to contribute, please complete This Survey from our friends at Artist U before Sept 15.
We have room for 10-12 people in this conversation. Please register today so we can get an accurate headcount of who will be joining the session. Any questions or clarifications can be directed to michelle@baltimore.impacthub.net.
Thank you!


This Listening Session is being organized and hosted by a short-term steering committee taking a snapshot of the health of the Arts Ecosystem.
Steering Committee members include:
Sabrina Thornton, John Brothers - T. Rowe Price Foundation
Jessica Solomon, Khadija Adell, Jane Brown - Deutsch Foundation
Maggie Villegas, Sharayna Christmas, Jenne Matthews - Baltimore Creatives Acceleration Network (BCAN)
Krista Green - Baltimore Office of Promotion & Arts (BOPA)
Andrew Simonet, Ashley Minner - Artist U
Ken Skrzesz - Maryland State Arts Council
Jeannie Howe, Kibibi Ajanku - Greater Baltimore Cultural Alliance (GBCA)
Karim Amin - Pennsylvania Avenue Black Cultural Arts District
Michelle Geiss, Alanah Nichole, Michelle Antoinette Nelson, Kamera Breland - Impact Hub Baltimore

About the organizer
Impact Hub Baltimore is a community of social innovators advancing equity, opportunity, and civic wealth in Baltimore.