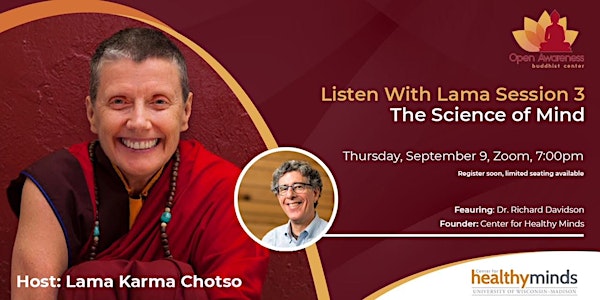 Listen with Lama: The Science of Mind with Dr. Richard Davidson
Listen with Lama: The Science of Mind - Special Guest: Dr. Richard Davidson of the Center for Healthy Minds
Refund Policy
Contact the organizer to request a refund.
Eventbrite's fee is nonrefundable.
About this event
The Listen With Lama Summer Series of virtual chats enters its 3rd session, featuring the teachings of Tibetan Meditation Master Yongey Mingyur Rinpoche.
Hosted by Lama Karma Chotso of the Open Awareness Buddhist Center in Miami, Florida. She focused for the first two sessions on YMR's life through his New York Times bestselling books and award-winning documentaries.
Session #3 takes the investigation into what science has learned about his mind., Dr. Richie Davidson, renowned neuroscientist and founder of the Center for Healthy Minds at University of Wisconsin-Madison, will be our featured guest.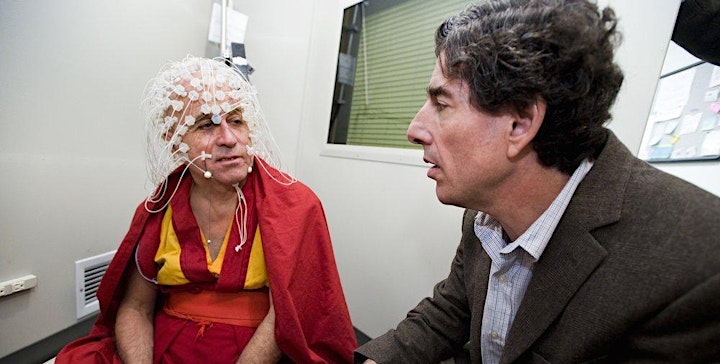 Named one of the 100 most influential people of the world by Time Magazine in 2006, he is the recipient of numerous awards for his research including a National Institute of Mental Health Research Scientist Award, he also was a member of the World Economic Forum's Council on Mental Health from 2014 - 2018 and has been appointed to the Scientific Advisory Board at Harvard's Lee Kum Sheung Center for Health and Happiness at Harvard's Chan School of Public Health, 2019-2022.
Starting in 2002 through 2016, Dr. Davidson began an intensive, years-long look into this meditation master's brain through brain scans. Davidson's team calculated Yongey Minguyur Rinpoche had reached approximately 60,000 hours of meditation practice by age 41, yet his brain showed a "younger age" compared to other non-meditators.
"It raises the possibility that meditation practice may slow the rate with which the brain ages".
Center for Healthy Minds UMW
Upon sharing the findings, YMR was "amused by them, since his dedication to meditating isn't to defy aging, but to promote insight and happiness". For the scientists and YMR, the opportunity to collaborate and unearth new insights on how the brain works has become a rewarding experience.
Meet our special Guest: Dr. Richard Davidson
As the William James and Vilas Research Professor of Psychology and Psychiatry and Founder & Director of the Center for Healthy Minds, University of Wisconsin-Madison, Dr. Davidson received his Ph.D. from Harvard University in Psychology in 1976, his research is broadly focused on the neural bases of emotion and emotional style to promote human flourishing, including meditation and contemplative practices. He's the author (with Sharon Begley) of "The Emotional Life of Your Brain" (2012) and co-author of "Altered Traits" with Daniel Goleman (2017). Elected to the National Academy of Medicine in 2017 and appointed to the Governing Board of UNESCO's Mahatma Ghandi Institute of Education for Peace and Sustainable Development (2018), he's published over 440 articles, numerous chapters and reviews and edited 14 books.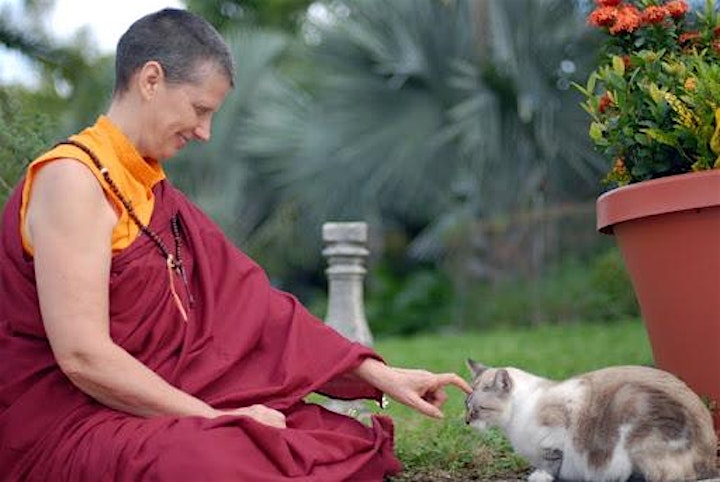 Lama Karma Chotso began to study and practice the Kagyu lineage of Tibetan Buddhism in March 1982, after meeting Dorje Chang Kalu Rinpoche in New York when he gave the Kalachakra empowerment. She took refuge with him there and 4 years later he ordained her as a novice nun. She's practiced the Buddhdharma for 35 years, studying Madhamyaka under the guidance of Khenpo Tsultrim Gyamtso Rinpoche for many years and her teachings reflect this. She also teaches extensively on instructions in Vajrayana practices and the Tibetan language. During her time in South Florida, she's given lectures at St. Thomas University, Barry University, FIU, Sunshine Cathedral, as well as been a member of the Board of Directors of the Interfaith Council of Greater Hollywood, serving as President one year. She teaches also in Peru, where the Kagyu lineage is strong and growing, visiting two times annually. Along with Rime (non-sectarian) master, Phakyab Rinpoche, and the Geluk sangha in Lima, she's helping oversee a 50 foot stupa project in the province of San Martin.