Listen Up Film Series presents Best Shorts of 2018 ST PETE Screenings!
Description
Listen Up Film Series presents The Best Short Films of 2018!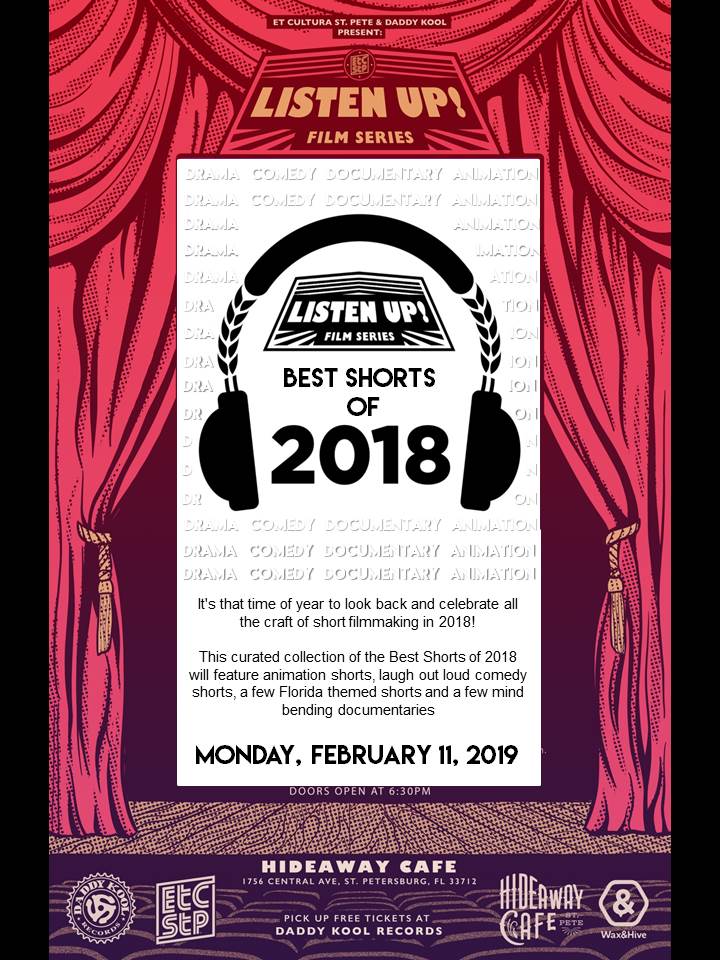 It's that time of year to look back and celebrate all the inspiring, funny, thrilling and dramatic shorts of submitted to Et Cultura during 2018 along with a few shorts that we fell in love with as we saw them at other festivals around the US and abroad. We'll be featuring animation shorts, laugh out loud comedy shorts, a few Florida themed shorts and a few mind bending documentaries - there is a little something for everyone. Come check out a few, but we'd love it if you stayed for them all!
At The Hideaway Cafe
Hideaway will be serving food and drinks throughout the evening.
Free Admission, Ticket or Reservation needed for admission
Tickets and EventBrite RSVPs will be seated first come, first serve from 630pm to 745pm
Waitlist will be seated only if space permits from 745pm -8pm
Et Cultura St Pete (EtC StP) and Daddy Kool Records are partnering to create a monthly film series that promotes and encourages the independent spirit, explores the rich and raucous world of music, and celebrates art house films in St. Petersburg's Original Listening Room, Hideaway Cafe.