LISTEN UP! Doing Corporate Citizenship Better, Together - MAY 2021
Learn about Abbott's Future Well Kids program and how they developed an inclusive, skills-based employee volunteer program. It wasn't easy!
About this event
Learn. Connect. Act.
______________________________________________________________
Good Employee Volunteering is hard work.
Abbott is partnering with schools and community organizations to teach children that healthy habits can last a lifetime. The program's designed to empower students, support teachers, and engage Abbott employees as volunteers to deliver the curriculum that encourages physical fitness and proper nutrition.
Sounds great right?
But it's not easy. In this episode of the Listen Up! Show we will hear from our guest, Bree Vopelak, the Senior Manager of Global Citizenship & Sustainability at Abbott. Bree will give us the 'real deal' about:
The hard work involved in picking a signature program
Measuring real change resulting from the program (is it even possible?)
Finding and engaging employees as volunteers
Ensuring a sense of 'the same program' when it is spread out all over the world
Training, training, and more training - how to keep people coming back for more?
The power of the T-Shirt :)
Be sure to join us for the 30th episode of the Listen Up! Show. You won't regret it!
Wednesday, May 12, 2021
11:30 – 12:30 EST (New York City time zone)
More about the Abbott's Future Well Kids program
Healthy habits can last a lifetime, especially when they're established early on. That's why the Future Well Kids program is partnering with schools and community organizations around the world to help teach children, ages 10-13, about choices they can make that set them up for future health. The program's hands-on, standards-aligned curriculum educates students about the important role nutrition and exercise play in helping them live a fuller, healthier life without noncommunicable diseases (NCDs), like diabetes and cardiovascular disease. At the end of each school year, participating students share what they learned and present their solutions to creating a healthier community.
Future Well Kids is a program from the healthcare company Abbott and its foundation, the Abbott Fund. Read the press release here.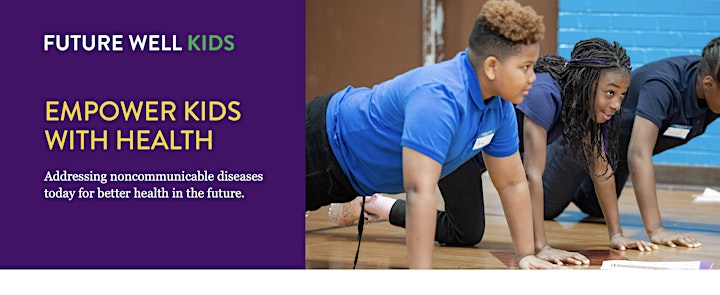 More about this Month's Guest
Bree Vopelak is the Senior Manager of Global Citizenship & Policy at Abbott. As an accomplished attorney, Bree has a passion for nonprofit organizations and employee engagement programs that contribute to bettering communities and helping people.
More about Listen Up!
Join us each month for provocative conversations with leaders in corporate citizenship focused on employee giving and volunteering. Our episodes are live on the second Wednesday of every month.
You will participate in robust discussions on trends and best practices presented by leading corporate citizenship experts from around the world representing companies, organizations, or academia. The presentation will be followed by an open discussion for questions and additional insight. Join us for this excellent opportunity to learn, get motivated, and expand your network with corporate citizenship professionals around the world. We've hosted calls featuring:
More about the RW Institute
The RW Institute (RWI) is solving the unsolvable problems facing corporate citizenship — the most intractable, systemic problems. We are creating a powerful movement of stakeholders working together around the world, asking and answering questions bigger than any one company, organization, or issue.
RWI brings together concerned parties, organizations, and companies to better develop, coordinate, and leverage the private sector's contribution to positive social and environmental change. Through networking opportunities, learning and development programs, innovative research, and thought leadership RWI enhances corporate citizenship efforts and connects key change-makers to like-minded leaders around the world.
More about the Atlantic Corporate Volunteer Council
Listen Up! is presented by the Atlantic Corporate Volunteer Council (ACVC). We are a group of professionals with shared interest in amplifying workplace volunteerism and corporate citizenship in Atlantic Canada. The Council seeks to collectively support, develop and partner as professionals to achieve social impact in our region.