Description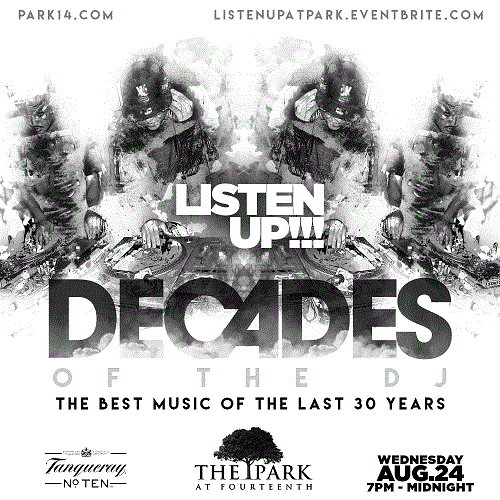 LISTEN UP!
DECADES OF THE DJ: THE BEST MUSIC OF THE LAST 30 YEARS
Whether you're bringing back the "99s and 2000s" or just want "One Dance," music is an essential piece of any party.
90s, 2000s, or current, it doesn't matter as long as when the song comes on you think, "DAMN THAT'S MY SH*T!"
Wouldn't it be nice to party where they played all of the hottest music from the 90s, 2000s, AND what's current right now?
Well LISTEN UP: The Park and Tanqueray No. Ten presents Listen Up: Decades of the DJ, where 12 DJs will spin the hottest mix they have to offer from the 90s, 2000s, and current decades
Party to the hottest beats while enjoying complimentary cocktails accompanied by sliders, jerk wings, and macaroni & cheese!
So lets get this straight…
12 DJs
3 Decades
Tanqueray No. Ten
Sliders, Jerk Wings, AND Macaroni & Cheese?
All provided by Tanqueray?
---
Wednesday, August 24th – DECADES OF THE DJ
DJ Hostility
DJ KI
DJ Heat
DJ Chubb E. Swagg
DJ Stevo
DJ Dirty Hands
DJ Schemes
DJ Nite Crawler
DJ Eku
DJ Big Will
DJ 5'9
DJ QuickSilva
Bottle Service: 202-905-2794

Park14.com
Metro: McPherson Square(orange or blue line) at the intersection of 14th & I
Disclaimer: The Park at 14th and Management retains the right to deny entry based on non-compliance with basic rules such as dress code, intoxication, and/or any other Park at 14 rules (www.park14.com). Dress code restrictions are at a management's discretion and do not pertain merely to categories of clothing but more importantly, to style of execution.
Tickets are final sale and non-refundable.
ALL GUESTS MUST BE 21 & OVER.