Description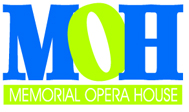 Listen To Your Mother features live readings by local writers on the beauty, the beast, and the barely-rested of motherhood, in celebration of Mother's Day at the Memorial Opera House.
Doors open at 6:30 PM and seating is on a first come, first serve basis. Please have your printed ticket with you, or tickets are available at the door for $15 CASH ONLY please.

Valparaiso's cast includes:
Elizabeth Chatwell
Meagan Francis
Adam Kellogg
Heather Novak
Lovelyn Palm
Kate Pantinas
Suzi Ryan
June Saavedra
Sharon Stefankiewicz
Megan Summers
Patrick Thornton

Stephanie Precourt , Listen To Your Mother producer & director, will emcee and read at the event as well.
Some material might be for mature audiences.

Born of the creative work of mothers who publish on-line, each production is directed, produced, and performed by local communities, for local communities.
5% of ticket sales will be donated to City of Joy, and 5% to Gabriel's Horn, a shelter for women & children in Valparaiso.
Thanks to our National Media Sponsor Blogher.com...

Valpo production sponsored by...