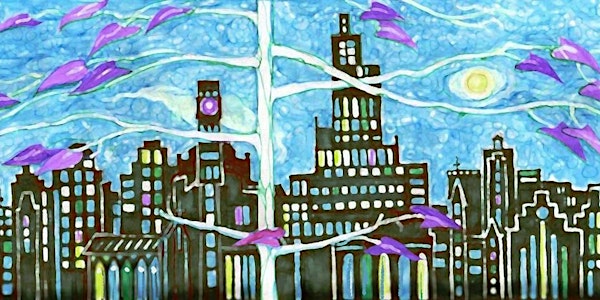 Listen to This! - An Evening with Judi Silvano & Bruce Arnold plus Jenny H...
Location
Arts at the Armory Cafe
191 Highland Ave
Somerville, MA 02143
Description
While Judi Silvano may be best known for her extensive jazz catalogue, her passions extend well beyond, to embrace classical and free improv music. Her background in modern dance also adds an underlying spatial physicality. It is this spatial element that is particularly present on "Listen To This", her intriguing collaborative project with guitarist Bruce Arnold.

Hailing from Sioux Falls South Dakota, Bruce Arnold has been exploring the potentials of his beloved electric guitar for years, using the program SuperCollider to summon up atmospheric soundscapes. His added fascination with 12 tone and pitch class theory as applied to improvisation lends his playing a distinctive harmonic and melodic voice.

When the two artists decided to see where a duet situation would lead them, both were surprised at the ease with which they created engrossing, evocative music. "I couldn't believe how comfortable Judi was with pedals and effects she had never used before." says Arnold. "And what she did with them was so cool, it was great to improvise with; it felt very free to create along with her." As for Silvano, she says "Bruce has exactly what I look for in a musician- he is literate, sensitive, and incredibly open in his approach."

What it comes down to is two seasoned Improvisors joining together to create captivating improvisational soundscapes that run the gamut from meditative to exhilarating. Come help Judi and Bruce celebrate their recent release "Listen To This" on the Muse-Eek label.

For thus event, Judi and Bruce will also incorporate visuals in their set.
Judi & Bruce performing togther in the studio .... https://www.youtube.com/watch?v=wVSmod9fD6M http://judisilvano.com/

Opening the evening will be Jenny Herzog, who may be familiar to those who have followed the Journeys in Sound series over the years. Jenny is a classically trained, jazz-loving tap dancer, vocalist, and improvisational musician based in Boston. She grew up on the Great American Songbook, musical theater, Thelonious Monk, and the Nicholas Brothers. Her belief is that the voice and body are intertwined; voice informs body informs voice.

Jenny will be accompanied at this event by much in bassist & music educator Jim Guttman who is involved in many projects inculding be a member of the Klezmer Conservatory band as well as fronting Jim Guttmann's "Bessarabian Breakdown".
Jenny Herzog doing one of her own compositions ... https://www.youtube.com/watch?v=s5t88qx4aJE