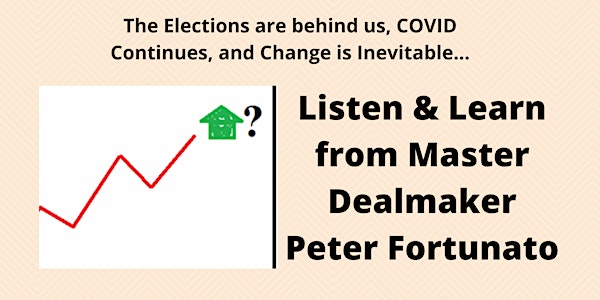 Listen & Learn From Legendary Master Dealmaker Peter Fortunato
Real Estate Change is Inevitable with Legendary Master Dealmaker Peter Fortunato
About this event
THIS WILL BE A SPECIAL BAWB SPONSORED VIRTUAL ONLINE WEBINAR
Log On a little Early if you can
7:00 Pm PST the Webinar starts and ends by 8:30 Pm PST
Tuesday November 17th,2020
Spend an Evening Listening & Learning from Legendary Master Dealmaker Peter Fortunato
The Elections are behind us, COVID persists, and change is inevitable...
Don't miss this opportunity to hear Peter's insights into what he and others are doing in today's ever changing Real Estate marketplace.
What is the BEST Strategy for You Today?
o Cash Flow Today or Profit tomorrow- You Choose
o What is Better- Great Terms or a Better price?
o Better location or more Cash Flow-What makes More Sense
o More Transactions or Fewer moving parts
o More entities or more insurance?
o Using a Lawyer or Drafting your own Documents
o Borrowing or lending LONG term or SHORT term
o Preparing for Inflation or Deflation-What Steps to take
o Saving vs Spending
o IRC 1031 Tax Deferred Sale vs a Cash sale
THIS WILL BE A VIRTUAL WEBINAR MEETING!
ANYONE CAN ATTEND
Tues. 11-17-20 at 7 Pm PST Promptly
IMPORTANT: We have VERY Limited Space in the Online Meeting Room so to assure yourself access PRE-Register ASAP.
This is FREE to BAWB MEMBERS in GOOD STANDING
Save $5.00 by PRE-REGISTERING
$20 for All Others if PRE-Registered by 11:59 Pm on Monday 11-15-2020
Thereafter $25.00 to Register.
IMPORTANT TWO STEPS
STEP # 1 -REGISTER THRU EVENT BRITE & PURCHASE A TICKET RIGHT HERE ON THIS SITE
STEP # 2 -You will then receive in the Confirmation email Event Brite sends a special ZOOM meeting link so you will be able to attend the Webinar.
SAVE that Zoom Meeting URL and Mark it down in your Calendar!
NOTE: There will be no refunds if you are unable to attend the Webinar but a Replay will be available