Description
LISTEN. ideas that resonate is a monthly series designed to spread concepts and ideas in our community. Each month 5 of our brightest minds will present in their areas of interest, research and scholarship. Join us for our next LISTEN featuring Professor Dianne M. Stewart, Amina Diop, Akilah Richards, Michael "Coach" Harris and Dr. Na'Taki Jelks Osbourne at the Auburn Research Library on November 15th at 6:30PM.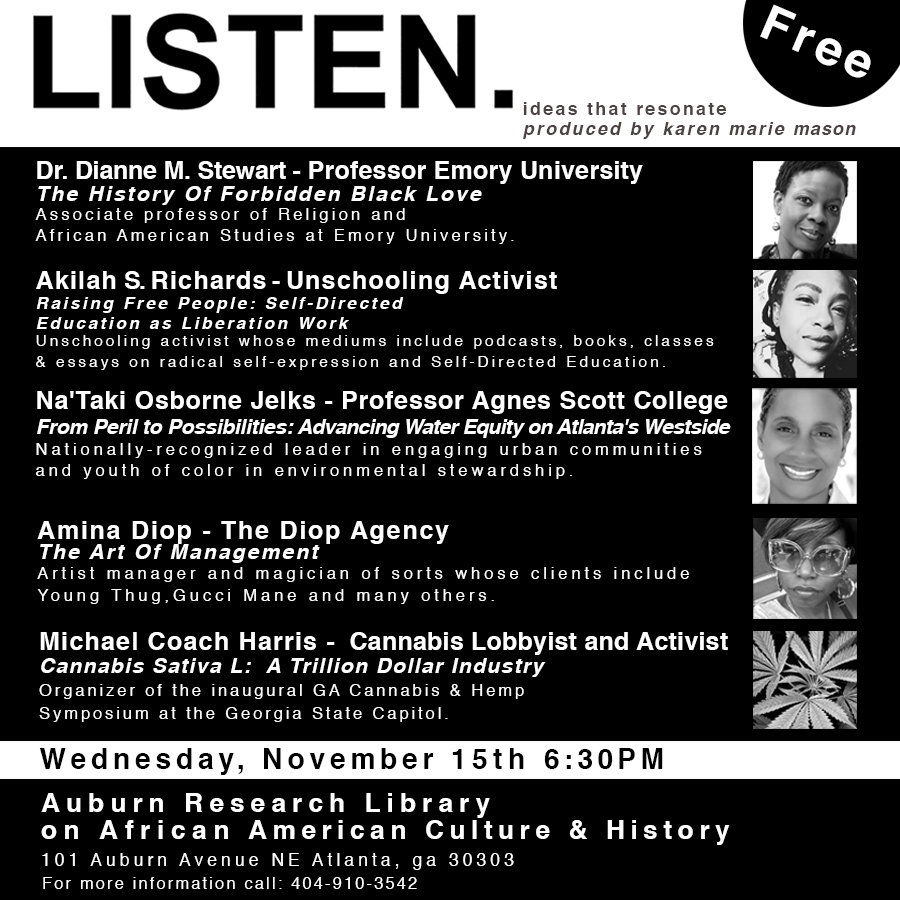 Dr. Dianne M. Stewart - Professor Emory University
---
---
The History Of Forbidden Black Love
Dianne Stewart is an associate professor of Religion and African American Studies at Emory University where teaches courses and mentors students in the graduate and undergraduate programs. Dr. Stewart's research and teaching interests cover a wide range of topics under the umbrella of Africana religions with attention to religious thought and practices of African-descended people in the Anglophone Caribbean and the United States; womanist approaches to religion and society; theory and method in Africana religious studies and the impact of African civilizations upon religious formation in the African diaspora. She is the author of Three Eyes for the Journey: African Dimensions of the Jamaican Religious Experience (Oxford University Press, 2005). Her second book project, Religious Vocabularies of Africa: Obeah, Orisa[1] and Identity in Trinidad, will be published next year by Duke University Press. Dr. Stewart is also co-editor, with Drs. Jacob Olupona and Terrence Johnson, of the Religious Cultures of African and African Diaspora People series at Duke University Press. Currently, she is a Senior Fellow at Emory's Bill and Carol Fox Center for Humanistic Inquiry where she is working on two book manuscripts tentatively titled, Local and Transnational Legacies of African Christianity in West-Central Africa and the Black Atlantic World; and Black Women, Black Love and the All-Too-Elusive Pursuit of Happiness
Akilah S. Richards - Unschooling Activist
---
---
Raising Free People: Self-Directed Education as Liberation Work
Akilah S. Richards is a writer and unschooling activist whose mediums include podcasts, books, classes, and essays on radical self-expression and Self-Directed Education. Akilah's work both challenges and empowers us to make space for deep self-study, including recognizing our natural patterns and core values, and confidently expressing and protecting those needs in our relationships. In her own family, Akilah, along with her partner and their two daughters, use unschooling as a tool for decolonizing education and liberating themselves from oppressive, exclusive systems. Find her conversations and commentary at Fare of the Free Child Podcast where Akilah supports, connects, and highlights people of color designing their own liberation through Self-Directed Education and love-centered community building.
Na'Taki Osborne Jelks - Professor Agnes Scott College
---
---
From Peril to Possibilities: Advancing Water Equity on Atlanta's Westside
Na'Taki Osborne Jelks is a nationally-recognized leader in engaging urban communities and youth of color in environmental stewardship through hands-on watershed and land restoration initiatives, environmental education, and training. In 2001, Jelks co-founded the Atlanta Earth Tomorrow® Program, National Wildlife Federation's multi-cultural, youth environmental education and leadership development program that engages urban youth in investigating causes of environmental challenges, helps them connect to nature, fosters their leadership of youth-led community action projects, promotes civic engagement, and nurtures leadership skills for building personal environmental stewardship.

As an unprecedented model for empowering inner-city teens to improve their communities, youth from neighborhoods highly impacted by pollution and economic disparities develop and implement bold, innovative solutions that advance urban sustainability. The Atlanta Earth Tomorrow® Program has directly reached over 2,500 youth and was recently selected as a 21st Century Conservation Service Corps (21CSC) member organization. Graduates have gone on to gain internships and permanent employment in the fields of environmental science and engineering, forestry, public health, environmental geography, and natural resource management. In addition to her work with the National Wildlife Federation, Jelks is board chairperson of the West Atlanta Watershed Alliance, a community-based organization that recently launched the Atlanta Children's Forest Network in partnership with the USDA Forest Service and U.S. Environmental Protection Agency to engage Atlanta youth and families in environmental education, service learning, and outdoor physical activity on over 355 acres of publicly owned, forested greenspace in Southwest Atlanta.
Amina Diop - The Diop Agency
---
---
The Art Of Management
An artist manager is a magician of sorts. Just ask Amina whose clients include Young Thug, Guccie Mane and many others. They juggle schedules, tours, business and branding deal and the personal. "I call myself an artist whisperer she says… [I] try to keep artists focused…it's more like being a friend, a confidant and then knowing your business at the same time."
Michael Coach Harris - Cannabis Lobbyist - Cannabis Activist
---
---
Cannabis Sativa L: A Trillion Dollar Industry
Organizer of the inaugural GA Cannabis & Hemp Symposium scheduled for the Georgia State Capiol later this year Michael Harris if founder of the The Green Rush Team ; a lobbyist in Atlanta, GA that is determined to end mass incarceration with the #IAMNOTACRIMINAL movement. The Green Rush Team looks to collaborate with other groups in Georgia and across the country to gain safe access to medications, decriminalize cannabis and end mass incarceration. Through a series of events "Coach" brings together policy makers and advocates like nonone else can do.
---