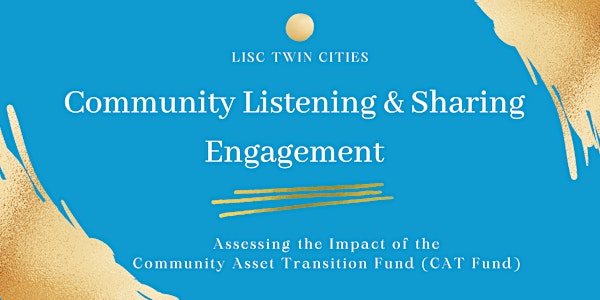 LISC Twin Cities Community Listening Engagement 2: August 25, 2022
LISC-TC wants to engage community members in the 8 cultural districts to hear from those that are impacted by the CAT Fund.
About this event
LISC Twin Cities (LISC-TC) embarked on a journey to center equity, preserve local ownership of buildings, keeping them in community control and benefiting local residents, and to meaningfully engage community organizations, businesses and residents to tell the story of its impact through the LISC Cultural District Recovery/Community Asset Transition Fund (CAT Fund).
In keeping with this goal, LISC-TC will host up to 8 Community Listening & Sharing engagements in collaboration with Strong & Starlike Consulting, Inc. between 2022 and 2023 as part of evaluating its efforts through the LISC Cultural District Recovery/CAT Fund.
Engagement 2: District Focus: Little Mekong and Little Africa
Date/Time: Thursday, August 25, 2022, 1:00-3:00 p.m. CST
Deadline to Register for this Engagement: Tuesday, August 23, 2022
Location: Virtual, via Zoom
Access and Accommodations. In an effort to make these sessions as accessible as possible we seek to offer translation, interpretation, and ADA accommodations. Options for these selections will be available on each engagement's registration page.
Maximum Number of Attendees per Engagement: Per engagement we are seeking to engage up to 30 people.
One Engagement Per District Member: We are asking that community members, partners, and loan recipients only attend the session designated for the district where they are located. Each engagement will follow a similar structure.
Gift Card for Participation: Business owners, community leaders, homeowners and renters who choose to be involved will receive a $100 dollar Midtown Global Market gift card for participating in an engagement. Be sure to provide your email and shipping address when registering for your district's engagement so that we can ensure that you receive the gift card.
Identify Your District: When you register for this event we would like to know which of the 8 districts you live and/or work in. Please only select 1 representative district. Please use the map below as your guide.
FAQs: For more information and an FAQ please visit here.