Vem ao nosso próximo evento ONLINE, onde não vão faltar discursos inspiradores, a diversão do improviso e feedback construtivo!
About this event
Depois de entrarmos em 2022 com o pé direito e um concurso de improviso divertidíssimo, voltamos às nossas sessões híbridas!
Agora podes pisar o palco virtual e treinar para as perguntas inesperadas daquela entrevista, aprender a lidar com o nervosismo de uma apresentação ou mesmo com os silêncios constrangedores ao conhecer pessoas novas!
Os Toastmasters existem desde 1924 e o Lisbon Toastmasters desde 2006, e desde a sua formação, melhorámos a comunicação e liderança de milhares de membros. Os membros pagam uma quota, mas enquanto convidado podes vir quantas vezes quiseres, sem custos.
A comunicação e a liderança foram das competências mais procuradas no mercado de trabalho em 2021 e são consideradas essenciais para a evolução na carreira.
Vem conhecer-nos e crescer connosco!
Acesso :
Zoom link: https://us02web.zoom.us/j/89412701642 / Password: 0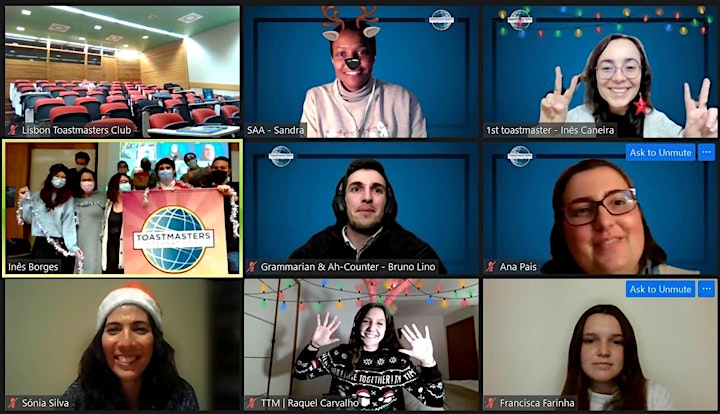 Organizer of Lisbon Toastmasters Club | Sessão ONLINE | 11-01-2021 @19h45
EN
Lisbon Toastmasters Club was founded in 2006, being the oldest club in Portugal. Our mission is to provide a positive learning experience and to help our members develop their communication and leadership skills. For that, we have weekly meetings every Tuesday at 19h45. Come join us!
PT
O Lisbon Toastmasters Club foi fundado em 2006, sendo o clube mais antigo em Portugal. A nossa missão é dar uma experiência de aprendizagem positiva e ajudar os nossos membros a desenvolver as competências de comunicação e liderança. Para isso, temos eventos semanais, todas as terças-feiras às 19h45. Junta-te a nós!