Description
Join the Conversation at Ursuline Academy!
Psychologist and author, Lisa Damour, will discuss her latest book, Untangled: Guiding Teenage Girls Through the Seven Transitions Into Adulthood at Ursuline Academy, Anna Raskob Auditorium on Thursday, December 7 at 7pm. This event is free and open to the public.
Lisa is the Director of the internationally renowned Laurel School's Center for Research on Girls and regular contributor for the New York Times and CBS News. She pulls back the curtain on the teenage years and shows why any erratic and confusing behavior your daughter may be exhibiting is actually healthy, necessary, and natural. Untangled, an instant New York Times best seller, explains what's going on, prepares parents for what's to come, and lets them know when it's time to worry.
Spaces are limited! Sign up today. All pre-registered attendees will be entered into a drawing for a free, signed copy of Untangled.
We look forward to seeing you there!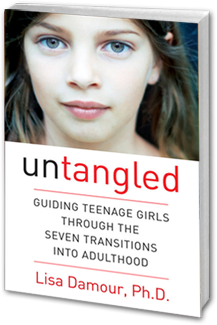 REVIEWS OF UNTANGLED:
"There are books about teenagers that are smart. And there are books about teenagers that are practical. Lisa Damour thankfully provides us with one that is both. With palpable empathy and understanding for adolescent girls and the families they reside in, Damour equips parents with a flexible blueprint for anticipating challenge and encouraging growth in their daughters. If you have a daughter (or were a daughter!) Untangled is mandatory reading."
--Madeline Levine, Ph.D., New York Times bestselling author of The Price of Privilege and Teach Your Children Well
"This is the book parents have been waiting, hoping, and praying for, because it's far more than a book. It's a map, flashlight, and GPS device for navigating the landscape of adolescent girlhood. Dr. Lisa Damour proves to be the perfect guide and companion: wise, whip-smart, and relentlessly practical on every page. As the father of three teenage girls, I wish I had this book years ago—and I hope that it is read by every parent, teacher, coach, administrator, and human being who wants to help girls grow and thrive in today's world."
—Daniel Coyle,
New York Times
bestselling author of
The Talent Code
###
Ursuline Academy is an independent Catholic school community in Wilmington, DE serving boys ages three through grade five and girls ages three through grade twelve that empowers students for leadership and service in our global community.

Organizer of Lisa Damour, PhD Visits Ursuline Academy, Wilmington DE