Description
Please arrive 10-15 minutes early, class will start on time. All class reservations must be paid in advance and cannot be cancelled or changed less than 72 hours prior to class. Sorry, no exceptions.
Liquid Acrylics, Inks, Pouring Liquids and Resin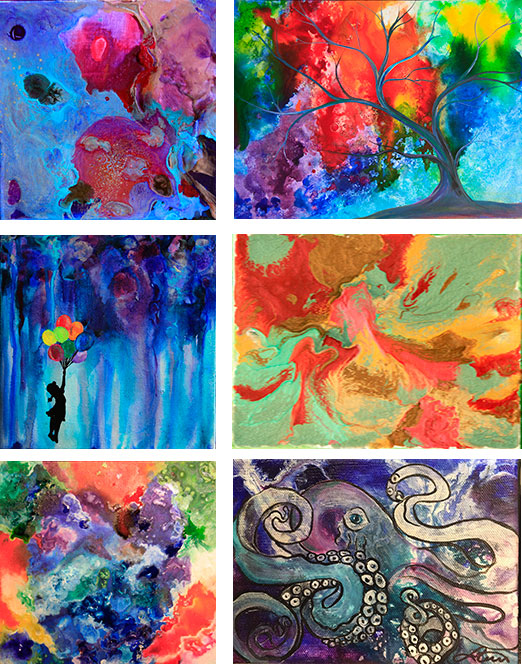 Learn to create a kaleidoscope of colors without brushstrokes in this fun class of random accidents and more. We will combine fluid acrylics and inks in layers to create a soft background similar to a watercolor, we will then add layers of drips, streams of paint, pouring mediums and resin. You will learn how to combing pouring mediums and self leveling gel with paint to create a variety of dirty pours, soft edge, hard edge and supreme pours. Once the base is dry we will add other elements to make it come to life, choose from a variety of inspired pieces and have a blast in this slightly messy class.

Supplies Required for this class: 3-5 Golden Hi-Flow Acrylics, 1-2 Golden Hi-Flow Iridescent Colors, 1-3 Acrylic Inks, Liquitex Pouring Medium, Golden Self Leveling Gel and 3 canvases or pieces of wood (any size).