Lip Enhancement: Anatomical-Based Injection Techniques with Professor Sebastian Cotofana, Julie Horne, and Dr. Arthur Swift
About this event
Join us for the third edition of our webinar series, Lip Enhancement: Anatomical-Based Injection Techniques, with special guest faculty (and Lip Queen) Julie Horne.
Broadcasting live on June 5, this event will focus purely on the treatment of the lips (lip enhancement, lip augmentation, M shape correction and treatment of barcodes). Dr. Swift and Julie will demonstrate their personal injection techniques on young and mature models. Professor Cotofana will explain the relevant anatomy on a cadaver specimen. Attendees will have the opportunity to ask questions to faculty members throughout the event. Alternate dates are available for those who are unable to attend the live session.
HERE'S WHAT YOU'LL LEARN
Patient assessment and aesthetic goals
Product selection
Multiple injection techniques using both needle and cannula
Detailed anatomical dissection of the lip as it relates to injection therapy
AVAILABLE VIEWING OPTIONS:
LIVE (Q&A Session with Expert Faculty)
Saturday, June 5, 2021 | 12pm - 2pm EST (NYC time)
ADDITIONAL VIEWING OPTIONS (No Q&A - Re-Stream Only)
Option 1 (suitable for guests joining from Europe):
Sunday, June 6 from 10am-12pm EST / 4-6pm CET
Option 2 (suitable for guests joining from the West Coast USA/Canada):
Wednesday, June 9 from 8-10pm EST / 5pm-7pm PST
Option 3 (suitable for guests joining from Oceana):
Saturday, June 12 from 11pm-1am EST / 1pm-3pm Sydney Time (Sunday, June 13)
Option 4:
Sunday, June 13 from 3pm-5pm EST (NYC time)
Option 5 (last chance to view):
Saturday, June 19 from 1-3pm EST (NYC time)
FACULTY:
Professor Sebastian Cotofana, MD, PhD, PhD
Internationally recognized as a leading anatomist, Dr. Cotofana is an Associate Professor of Anatomy at the Mayo Clinic College of Medicine and Science in Rochester, Minnesota. In his scientific work, Dr. Cotofana specializes in anatomy and aging medicine as relevant to plastic surgery and dermatology. He is an international speaker and Live Dissector at many meetings, international conferences and workshops. Dr. Cotofana also serves as a reviewer for more than 15 scientific journals and has published more than 100 peer-reviewed articles and books.
Arthur Swift, MD, FRCS
Dr. Swift is a board-certified Plastic Surgeon and serves on the global advisory board for many of the world's leading cosmetic pharmaceutical companies. He is world-renowned as an expert and trendsetter in the field of cosmetic enhancement - a mathematical analysis of beauty and an unrivaled passion for his craft have made Dr. Swift one of the most sought after mentors on the global aesthetic circuit. He has trained over 10,000 cosmetic physicians through hundreds of masterclasses in 48 countries over 6 continents. Dr. Swift is the recipient of numerous prestigious awards, including the Cosmetic Industry Award, given to the Canadian physician whose visionary work and innovative techniques have kept Canada at the forefront of aesthetic medicine.
JULIE HORNE, RN
Julie Horne is the first Registered Nurse in the Aesthetics industry to become a Global Key Opinion leader and is revered for her unique and exceptional lip injection techniques. Julie launched the Julie Horne Technique™ in 2017 and this technique has become the most sought after technique for lips internationally. Julie has injected over 12,000 lips in her career as an aesthetics practitioner and has taken her training to a global platform, having trained thousands of practitioners to date.
ATTENDEES:
This course is open to all level practitioners, including physicians (MDs, DOs), nurses (NPs, RNs), and physician assistants (PAs, PA-Cs).
COURSE FEES (USD):
$425 USD
COURSE LANGUAGE:
English
EVENT WITHDRAWAL:
All sales are final. No refunds will be permitted. Guests will be able to use their registration to view any one of the 6 available viewing options.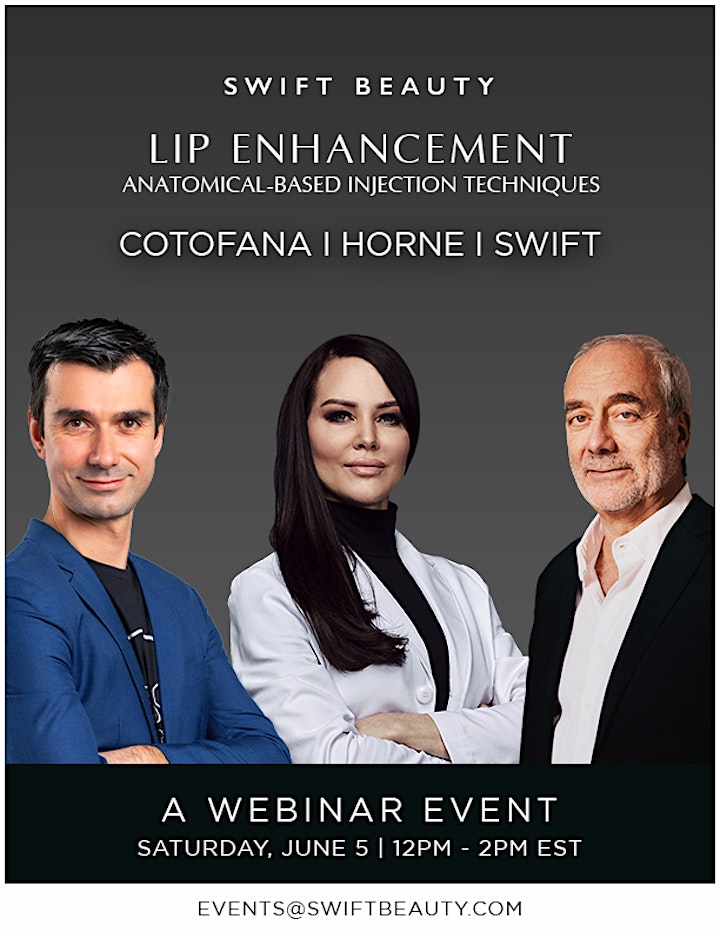 Organizer of Lip Enhancement: Anatomical-Based Injection Techniques
Founded by renowned plastic surgeon Dr. Arthur Swift, our educational platform focuses on state-of-the-art aesthetic procedures developed from evidence-based medicine. Our goal is to standardize an elite tier of training for healthcare practitioners – ensuring treatments are safe, effective and affordable for patients.