Lions Rose Parade Celebration: New Year's Eve Breakfast & VIP Float Tour
Description
Celebrate the Rose Parade in style! Come meet Lions Clubs International President Dr. Naresh Aggarwal and other Lions Clubs dignitaries at the 24th Annual Rose Parade Celebration- New Year's Eve Breakfast and Float Tour with the Pasadena Host Lions Club. Proceeds benefit Lions Float, Inc.
View the Lions Clubs International Float in advance as the LCI Float is unveiled in its new construction location in Irwindale. Plus, keeping things new and exciting, we're featuring a fabulous breakfast in a brand new venue at the Rita and Ben Cooper Auditorium at City of Hope in Duarte. Enjoy a morning of food, fun and flowers, with:
Door Prizes & Opportunity Drawings Galore!

A VIP Tour of the Float Palace!

Breakfast-to-Float Barn bus service provided!

See the Lions float before the rest of the world does!


TICKET PRICES (NON-REFUNDABLE):
ADULTS = $60 (save $10 with the Early Bird discount when you register by December 5)
YOUTHS (5-13) = $30 (Save $5 with the Early Bird dicount when you register by December 5)

***Kids Ages 4 and UNDER are FREE***
Order tickets online here and receive instant confirmation by email or, to save on ticketing fees, you can download & complete the registration form as indicated by following this link to DOWNLOAD FORM AND MAIL IN PAYMENT BY CHECK. Make checks payable to PASADENA HOST LIONS
If you have any questions, call us at (818) 254-9563 or email us at pasadenahostlionsclub@gmail.com.
SCHEDULE
7:00 am Check in begins (first come, first ticketed) with Breakfast Buffet Available 7:00 am to 11:00 am
7:25 am Tour Buses Depart for Float Barn/VIP Tour of LCI Float
8:15 am "Pick-A-Prize" Opportunity Drawings
8:30 am Program and Presentation to Lions Clubs International President Dr. Naresh Kumar Aggarwal
9:00 am "Pick-A-Prize" Opportunity Drawings
9:15 am Tour Buses Depart for final round of VIP Tours of the Float Barn
Breakfast will be served from 7 am to 11 am so attendees can choose to eat before or after their tours.
***PLEASE CLAIM PRIZES FOR "PICK-A-PRIZE" OPPORTUNITY DRAWINGS BEFORE LEAVING***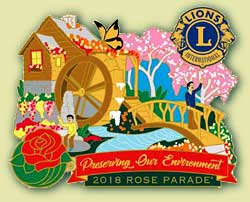 ALT TEXT: Header image features a header with a collage of past float tours, ticket sellers, and deluxe buffet items provided. Next image features artist rendering of LCI Float with theme "Preserving Our Environment." Image below is a close-up of the 2018 LCI Float pin. Final image adds photos of flowers to header image.