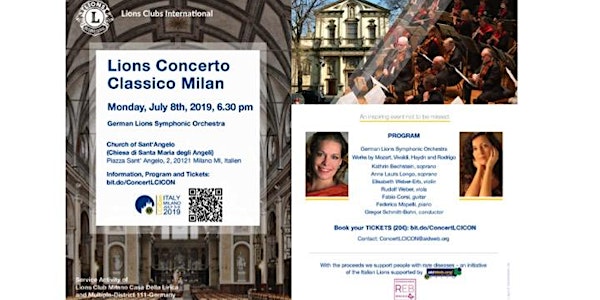 Lions Concerto Classico
When and where
Location
Sant'Angelo (Chiesa di Santa Maria degli Angeli) 2 Piazza Sant' Angelo 20121 Milano Italy
Description
A special evening with the German Lions Symphonic Orchestra playing compositions by Mozart, Vivaldi and Haydn. Enjoy the beautiful voices of the sopranos Kathrin Bechstein and Anna Laura Longo in a unique atmosphere downtown Milan.
PROGRAM
German Lions Symphonic Orchestra
Works by Mozart, Vivaldi and Haydn
Kathrin Bechstein, soprano
Anna Laura Longo, soprano
Elisabeth Weber-Erb, violin
Rudolf Weber, viola
Fabio Corsi, guitar
Federica Mapelli, piano
Gregor Schmitt-Bohn, conductor
With the proceeds we support people with rare diseases – an initiative of the Italian Lions supported by aidweb (http://aidweb.org).