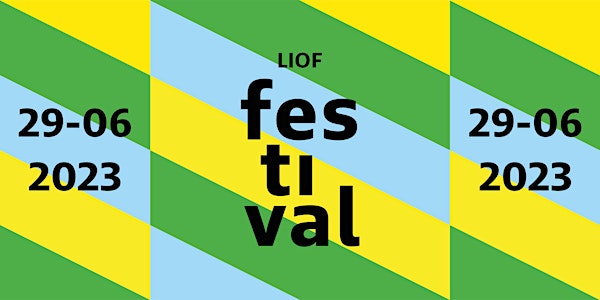 LIOF Festival 2023
LIOF Festival 2023
Date and time
Thursday, June 29 · 4:30 - 9pm CEST
Location
Beachclub Degreez Panheel Velkenskamp 1 6097 NN Panheel Netherlands
About this event
4 hours 30 minutes

Mobile eTicket
Een editie met bruisende energie
Wat het weer ook wordt, we gaan op 29 juni weer een bruisend LIOF festival organiseren. En wederom aan de unieke 'kustlijn' van Beachclub Degreez in Panheel. Wil jij je laten inspireren door de energie goeroe Arash Azami en door Lex Uiting worden meegenomen in de verhalen van zijn tafelgasten? En wil jij collega ondernemers ontmoeten en nieuwe inzichten opdoen? Dat kan! Vanaf 16.30 uur ben je van harte welkom. Het programma start om 17.00 uur en eindigt rond 21.00 uur.
Wat vragen we van jou?
Jij brengt de juiste dosis nieuwsgierigheid, openheid en ongedwongenheid mee. Wij zorgen voor een inspirerend programma, een prachtige zomerse setting, de juiste mix van collega festivalgangers én overheerlijke gerechten!
Je bent er toch zeker bij?
Programma
Het programma voor deze middag ziet er als volgt uit:
16.30 – 17.00 uur Inloop
17.00 – 17.15 uur Opening
17.15 – 17.45 uur Eerste ronde
17.45 – 18.00 uur Wissel
18.00 – 18.30 uur Tweede ronde
18.45 – 19.00 uur Afsluiting formele gedeelte
19.00 – 21.00 uur Food, drinks en netwerken.
Ga voor alle informatie naar https://liof.nl/liof-festival-2023
________________
An edition with vibrant energy
Whatever the weather, we are going to organize another vibrant LIOF festival on June 29. And again at the unique 'coastline' of Beachclub Degreez in Panheel. Would you like to be inspired by the energy guru Arash Azami and be taken along in the stories of his table guests by Lex Uiting? And would you like to meet fellow entrepreneurs and gain new insights? You can! From 16.30 you are welcome. The program starts at 5 pm and ends around 9 pm.
What do we ask of you?
You bring the right dose of curiosity, openness and casualness. We provide an inspiring program, a beautiful summer setting, the right mix of fellow festival-goers and delicious food!
Program
The program for this afternoon is as follows:
16.30 - 17.00 Walk-in
17.00 - 17.15 Opening
17.15 - 17.45 First round
17.45 - 18.00 Swap
18.00 - 18.30 Second round
18.45 - 19.00 Conclusion of formal part
19.00 - 21.00 Food, drinks and networking.
Go for all information to https://liof.nl/en/events/liof-festival-2023