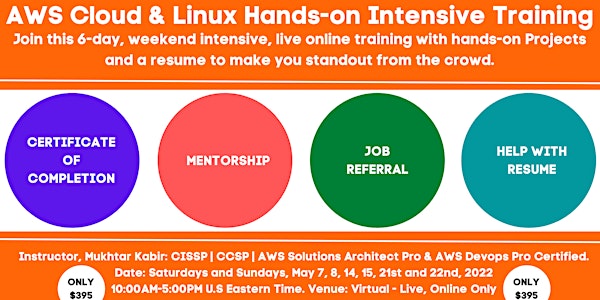 Linux & AWS Live Training - Hands-on intensive (Ma
The goal of this Linux and AWS Cloud live Hands-on intensive training is one thing - Get you job ready!
About this event
Please make sure to read the entire details for this class below:
Topics Covered (Linux):
- Get a Linux Machine/Server
- Creating user accounts
- Working with files
- File permissions
- Searching the system
- Compressing and Extracting files
- Installing software/tools
- Networking
- System Information
- Important Shortcuts - Tips & tricks
- Recommended Cheat Sheet
Topics Covered (AWS):
- Identity and Access Management
- Storage – S3, EFS
- Amazon EC2
- Databases on AWS
- AWS Virtual Private Cloud
- App Hosting: AWS Elastic Beanstalk, App Runner
- Project: Host a Dynamic Web Application with a database backend using Amazon EC2, Amazon RDS, ELB and Route53 for a custom domain. Also enable HTTPS using AWS Certificate Manager.
Date: Saturdays and Sundays, May 7th, 8th , 14th, 15th, 21st & 22nd, 2022.
Time: 10:00AM – 5:00PM U.S Eastern Time.
Venue: Virtual – Live, Online Only. Join from anywhere, from the comfort of your home. Join link will be shared with all registered and paid students.
Instructor: Mukhtar Kabir, CISSP and CCSP Certified | AWS Solutions Architect Professional Certified.
Recommended online training prior to joining this training:
If you're new to I.T and still want to enroll in this class, it is highly recommended that you go through the free courses below. These free online courses should take you less than a week or just 2-3 days to complete.
Fundamentals of IT: https://www.youtube.com/watch?v=awLnur5Yt9o&t=123s
If you don't already have basic understanding of Networking, DNS and Servers, please make sure to watch these free YouTube videos to understand the basics of what they are before the class.
Networking: https://www.youtube.com/watch?v=YdprN_CFVOo
DNS: https://www.youtube.com/watch?v=mpQZVYPuDGU
Servers: https://www.youtube.com/watch?v=CDxaRfwzFrs
Prerequisites:
1. Any previous I.T. Experience, Education or Certification is preferred, not required.
2. Have a good working laptop, Windows or Mac (laptop or desktop).
3. Sign up for AWS Account using this link (https://portal.aws.amazon.com/billing/signup#/start). Make sure to choose Personal and Free Tier options when asked during your AWS account registration. During the AWS account sign up, you will be asked to enter credit card details on the AWS page and charged a dollar, this $1 amount will be returned back to your account by AWS.
Course Materials: Provided by the instructor before the first day of class via email. Please see previous student reviews at https://www.yescertified.com/live-training.html
The Zoom Join link will be shared with all registered students 48 hours before the first day of class. Please email support@yescertified.com for any questions.
Payment: Due at sign up. We are sorry, no refunds after you register unless the organizer cancels the event.
Thank you.