Description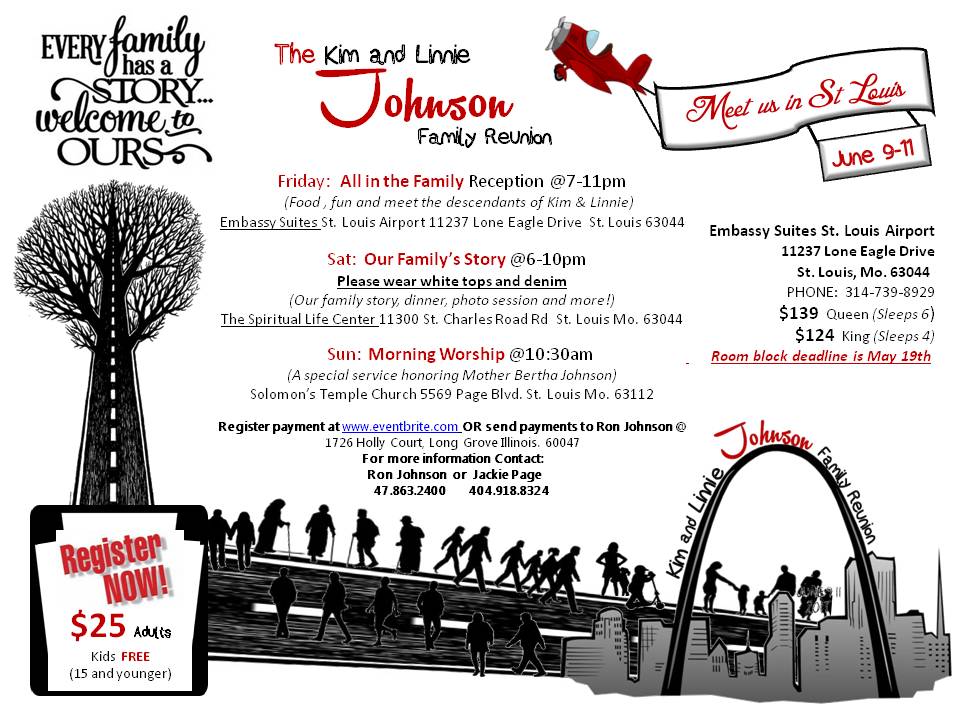 The date is June 9-11 2017 Registration Deadline is April 15, 2017. REGISTER TODAY!!!
$25 Registration fee (15yrs and up). This fee includes your bag of goodies, meet and greet dinner reception and Saturday Dinner.
Register your payment now by credit card OR sent payments to Ron Johnson @ 1726 Holly Court, Long Grove Illinois. 60047
---
---
HOTEL ACCOMMODATIONS:
EMBASSY SUITES @ St. Louis Airport at 11237 Lone Eagle Drive, Bridgeton, Missouri, 63044, 1-314-739-8929 FAX: +1-314-739-6355 Room Blocked under Johnson Family Reunion DEADLINE MAY 19TH!
Guest Suites (Sleeps 6pp) $149.00 ($119 Sunday nite) King Suites (Sleeps 4pp) $124.00 ($139 Sunday nite)
Guest Rates include: Full Breakfast, Manager's receptions (appetizers and alcoholi and non alcoholic beverages, Airport/MetroLink Shuttle, Full suites w/ refrigerator, microwave, wifi, free parking and more. Visit websites for particulars.
THE CELEBRATION

Friday 7-11pm at the Embassy Suites St. Louis Airport.
Arrive early and get settled into your room and prepare to attend a 7:00-11pm meet and greet dinner reception. Then enjoy the night life of St. Louis.
Saturday at 6:00-10pm at The MBCH Spiritual Life Center.
There will be plenty of time to see the city of St. Louis and enjoy the summer festivals. Then we will have a dinner party . Please wear white tops and denim bottoms. WE WILL TAKE GROUP FAMILY PHOTOS. Begin pulling all of your family photos from your archives and we will have a photo "Show and Share" time. We'd love to hear your oldest family memories and traditions. Help research, share and preserve the Johnson Family heritage from generations to come!! Bring your oldest family heritage photos!
Sunday
We will conclude the weekend with a close out event on Sunday Morning, 10:30am at Solomon's Temple Church.
WE NEED YOUR HELP!! Partner by sharing news of the 2017 Kim and Linnie Johnson Family Reunion to every family member in your personal database and will keep them informed of all the exciting updates.
See you in St. Louis where we will make new family connections and create wonderful memories!
For more information, you can contact Ron Johnson @ 847.863.2400 or Jackie Page @ 404.918.8324