LinkedIn for Journalists with Intero Advisory's Colleen McKenna
Description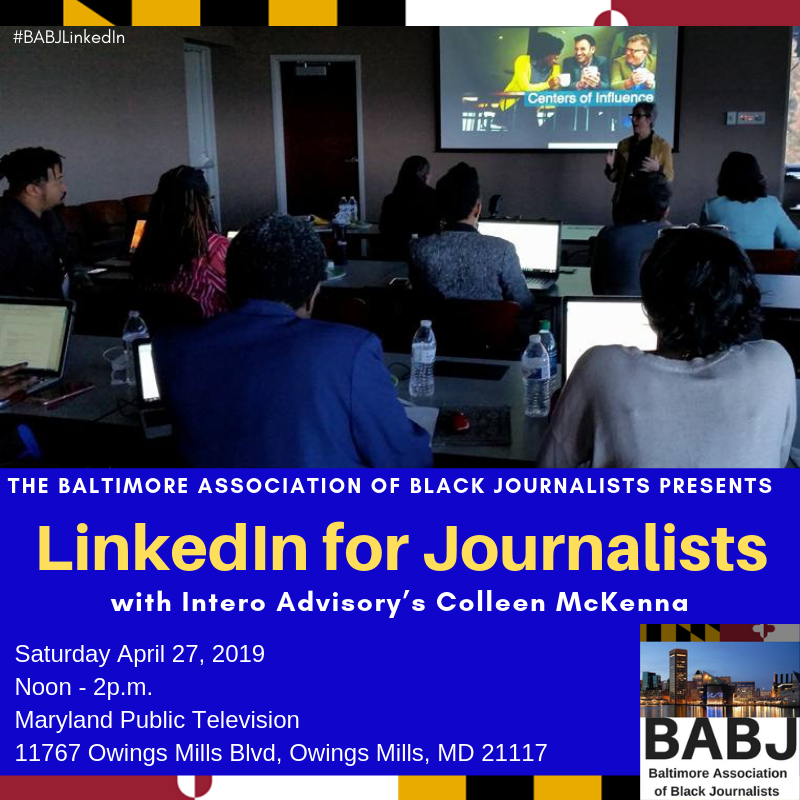 Time to level up and get LinkedIn!
The Baltimore Association of Black Journalists wants to help you spruce up your LinkedIn profile and maximize how you use the professional social media network.
Join us for an interactive workshop with Intero Advisory's Colleen McKenna as she shares LinkedIn tips for journalists and media-related professionals.
LinkedIn for Journalists with Intero Advisory's Colleen McKenna
Saturday April 27, 2019
Noon - 2p.m.
11767 Owings Mills Blvd, Owings Mills, MD 21117
(Directions to MPT http://www.mpt.org/about/directions/ )
The event is free to all. Lunch will be served.
This is the fourth time McKenna has come to BABJ to share her extensive LinkedIn knowledge. Here are highlights from previous workshops.
2016 - BABJ gets LinkedIn to network downloading and Social Selling Index scores
2015 - BABJ gets LinkedIn to professional tools
2014 - BABJ Gets LinkedIn
PLEASE RSVP HERE:
11:45 – Reception.
Noon – General Business Meeting.
12:30/12:45 – LinkedIn Professional Session.
###