| | |
| --- | --- |
| LinkedIn Business Development Training (Web 3 of 4) - Webinar | |
Event Details
Teaches targeting -

"Prospecting for that Golden Nugget"


Where and how to look for leads, searching, and targeting.  Do's and Don'ts on LinkedIn®.  Group participation.  Business Etiquette.  Search, search and more searches from beginner to advanced level.  How to get past gatekeepers for your company and you to get to new contacts. It covers specific strategies for the most common selling scenarios – hunting for business, named/targeted accounts, territories, vertical markets, business partners and sales channels.  Add Marketing Sizzle (Brochures, Videos, TV, social medias …) to your presence.

These trainers are not your average social media speakers proclaiming to be experts, they are certified by Integrated Alliances in LinkedIn® and accredited by LinkedIn® as being in the Top 1% Viewed in 2012.
 

Prerequisite: Class #1 LinkedIn Essentials; Min: 5 Groups, 50 Connections

Takeaways:

By the 2nd and  3rd class we will have coverd 9 different "Highways" to get to a target still using the free basic LinkedIn membership.

Advanced use of Groups

How to avoid penalties in Groups? 

By this 3rd class we will unveil all the free ways to avoid paying the premiums and still getting your results

You will have learned 4 tiers of searching where most LinkedIn Members are still only using tier 1 and some on tier 2 searching

Let the expert share with you the secret to getting your leads delivered to you daily or weekly in your email.  These leads can be business or job related.  Let LinkedIn do the searching for you so you can spend your time making the connections and/or developing your relationships

Workbook / Handouts:

Class #3's PowerPoint Handout

LinkedIn Roadmap – Guide to LinkedIn's menus and organization; navigational path to where features/functions are in LinkedIn; and helps you keep track of the proper ordering of how to work efficiently and effectively in each class

LinkedIn Strategy and Action Planner – As we proceed thru various areas in LinkedIn and demonstrate how a naïve beginner naturally uses a LinkedIn feature, we then follow immediately with how a savvy LinkedIn user seizes every opportunity to stand out and reap  more benefits.  This Planner helps you to firm up your best strategy for using LinkedIn's features and functionality to achieve your objectives and also keeps track of the tactics to use to build out your strategy into actionable next steps

Progress Tracking Log – you will learn how to track and measure your progress as you work on your LinkedIn Profile in the first class and the learning's in the next LinkedIn Training classes in this series.  As you learn to think strategically, rather than organically, to grow your network and engineer your searches you will see dramatic improvements in your results
This is training class #3 in a 4-part series.   Est Duration: 2Hrs and 15 min.  Register to attend more training at eventbrite: www.linkforsuccess.eventbrite.com .
Sales will close 4-12 hours prior to the webinar. Sales for classrooms will close at midnight the night before in order to make the appropriate number of handouts for class. No Refunds.  If you miss class your funds will roll forward to a future class.  If you want to take the series but have/will miss one of the classes in the series, please contact Lucinda. (e.g. If you miss a classroom training you may take the next webinar when available to get back in the series.)
For more details contact:   LucindaRuch@LinkForSuccess.com             or 972-370-2386
Organizer
Lucinda Ruch, Link For Success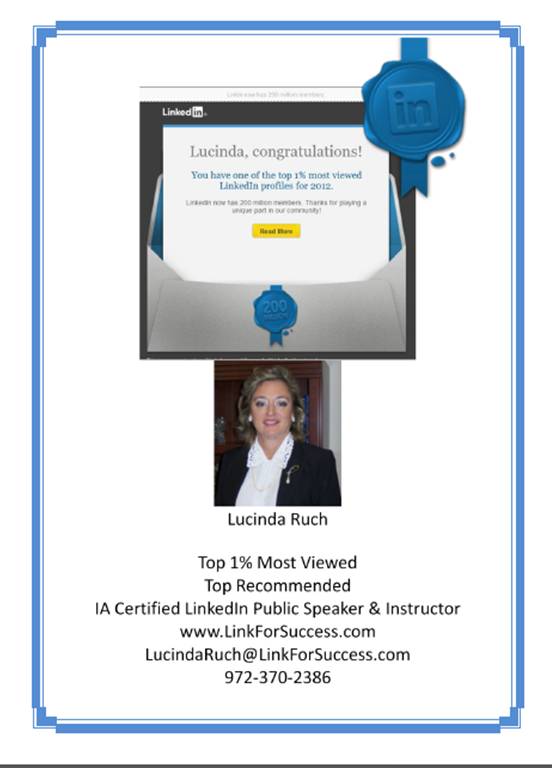 LinkedIn Consulting, Training & Public Speaking, serving the DFW Area:  Dallas, Ft. Worth, Denton, Irving, Arlington and surrounding areas.  Founding Board Member of Social Media Breakfast (SMB) Dallas.  It's now the 2nd largest in N. Texas.  Communications/PR (LinkedIn) for Success North Dallas (SND) and Americas Future Series (AFS).