Linked In for Your Business - Parnassah Network Seminars Full Day
Description
November 21, 2018 - 9:30 AM- 5:00 PM.
Cost: $350 per participant
Includes breakfast and lunch.
Open to men and women.

Parnassah Network Seminars is proud to present Linked In for Your Business
This full day seminar is geared for both beginners and existing Linked In users that would like to learn how to effectively use Linked In to grow their business.

Some of the Topics include:


Creating a Profile that Gets Noticed
What Linked In is and What it is Not
Posts that Reach Your Target Audience
Connection Requests that Work
Identify the best leads via "Advanced Search"
Getting Noticed by the Media and Power Brokers
The DO's and DONT's of Linked In for Business
Adding Effective Media Content
& More

Presenters:


Chaim Shapiro, M.E, Director of the Office for Student Success at Touro College; Linked In Consultant
David Konigsberg, CEO Optimal Targeting; Successful Linked In Marketer and Power Networker
Y.H. Izzy Levovitz - CEO Profound Business; Business Consultant and Marketing Strategist

Ari Zoldan - CEO Quantam Media Group; TV Personality; Social Media Influencer
Allan H. Glazer - CEO Lenbar Consulting; Business and Social Media Consultant


Advanced Ticket Purchase Required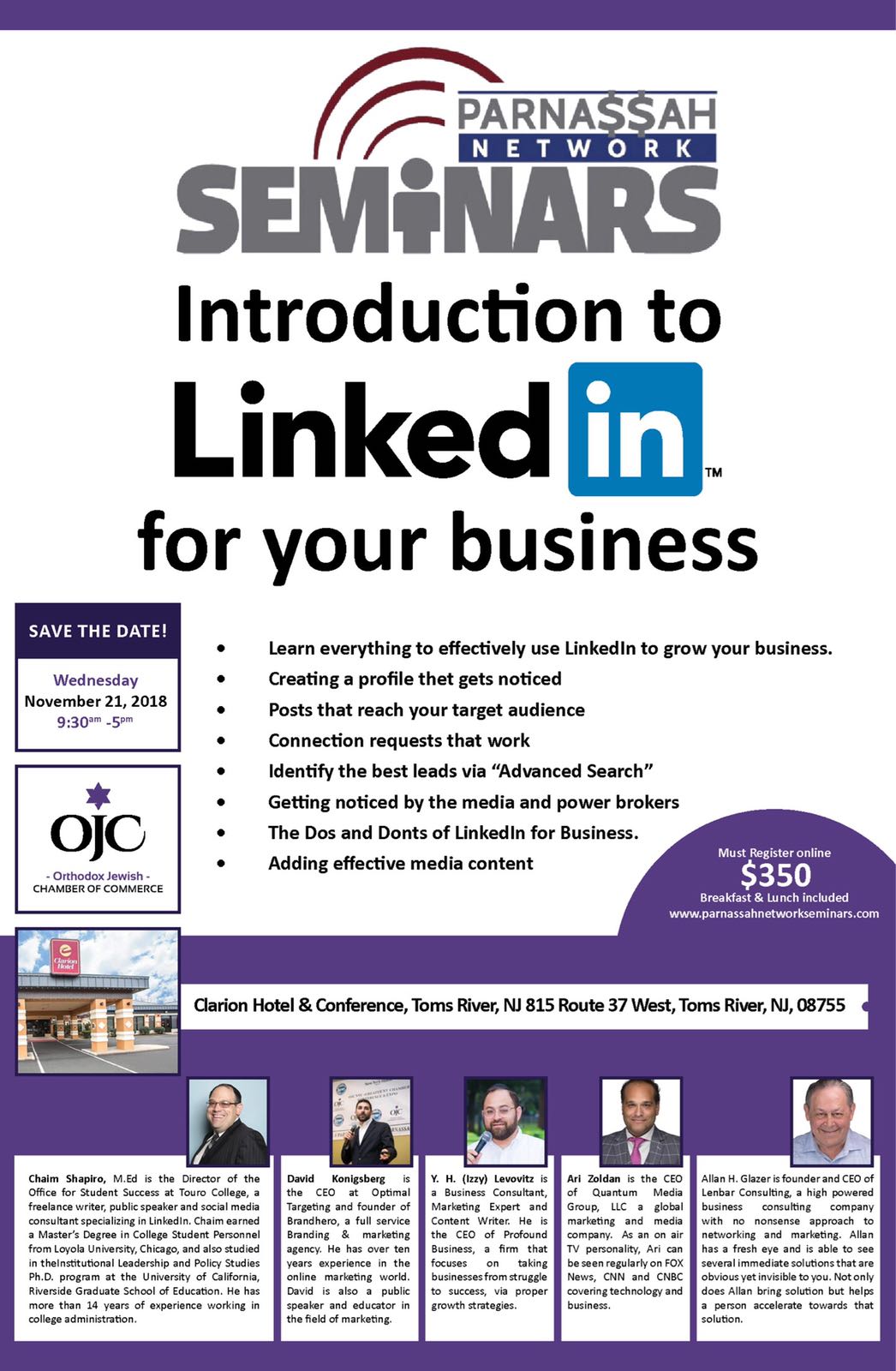 Organizer of Linked In for Your Business - Parnassah Network Seminars Full Day
The Orthodox Jewish Chamber of Commerce serves as powerful vehicle for diverse active businesspersons to join forces and help each other prosper. Businesses include those from the Jewish business world as well as non-jewish entities that would like to connect with Jewish businesses.