Linguamatics Text Mining Summit 2014

Monday, October 13, 2014 at 1:00 PM

-

Wednesday, October 15, 2014 at 4:00 PM (EDT)
Event Details
This year's meeting will take place on October 13 - 15, 2014 in the beautiful and historic city of Newport, Rhode Island, at the Hyatt Regency Newport Hotel & Spa.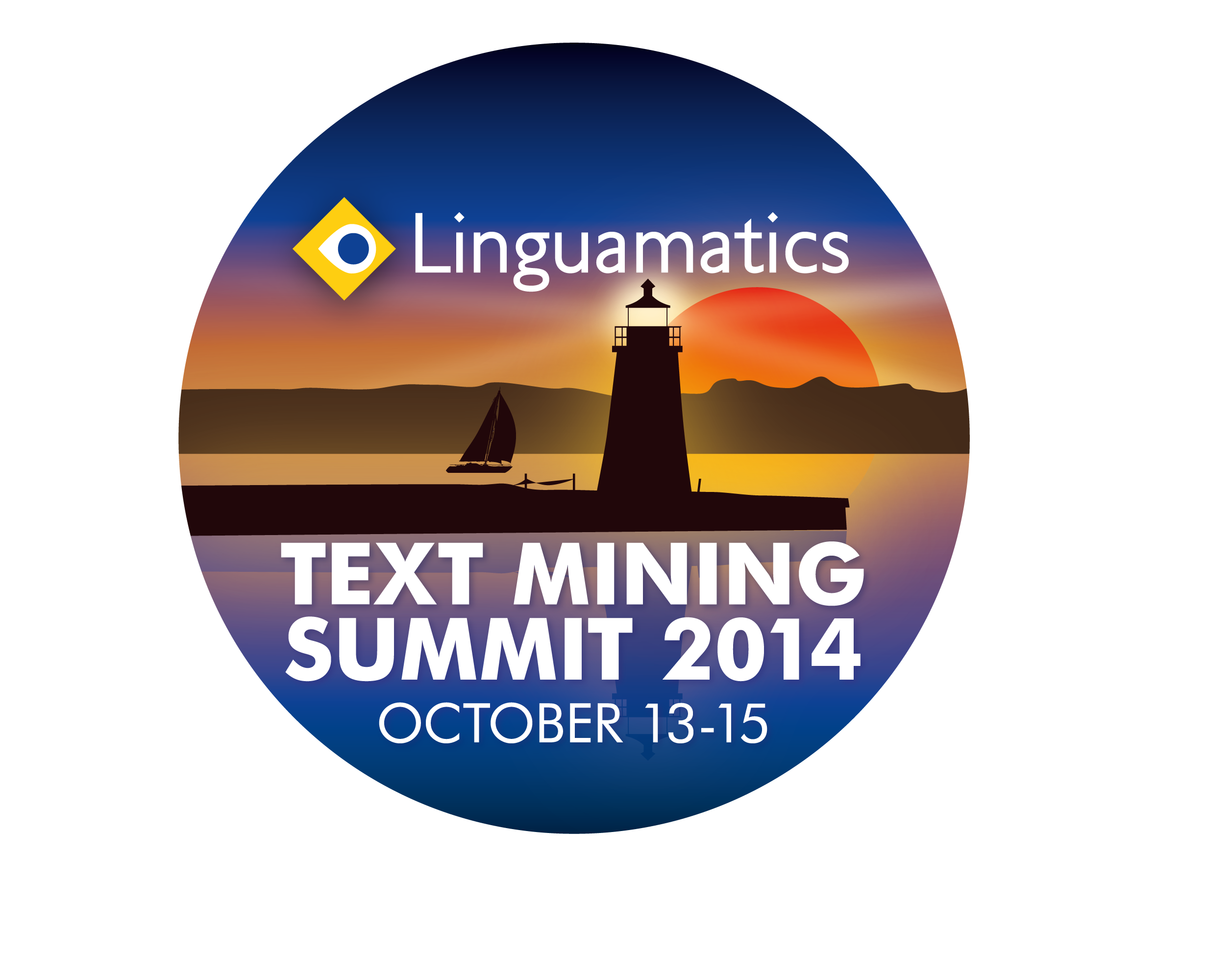 The hotel is surrounded by Narragansett Bay, next to the famous Newport marina and boasts extensive grounds and facilities including a swimming pool, Stillwater Spa and close proximity to the famous Newport National Golf Club.



Confirmed industry speakers to date:

Mark Burfoot, Novartis Institutes for BioMedical Research
Text Mining and Knowledge Strategy in an Evolving Pharma Landscape
Mick Correll, Genospace
Personalized Medicine in Cancer
Elzbieta Skrzypek, Cell Signaling Technology
Searching scientific literature for a public database - the PhosphoSitePlus case
Ryan Owens, Spartanburg Regional Healthcare System
Gaining critical information for clinical trials using NLP
Jonathan Keeling, Boehringer Ingelheim
Integration of text mining into the tranSMART knowledge management platform
Alice Goshorn, Bristol-Myers Squibb
Expanding the use of text mining through smart query web portals
Abhivyakti Sawarkar, Pfizer
Strategic business insights from medical information data analysis
Miguel Camargo, Novartis
Opportunities from bulk literature extraction
Andrew Garrow, Thomson Reuters & Guy Singh, Linguamatics
I2E with Cortellis
Paul Summers, Microsoft & Paul Milligan, Linguamatics
Semantic Enrichment for Enterprise Search: a pharma R&D case study


Customer presentations featuring best practice, case studies and insights on practical approaches to text analytics using natural language processing (NLP) and knowledge discovery
Presentations covering what's new in

I2E

, looking ahead at developments in the pipeline and future directions for text mining and knowledge discovery
Round table discussions covering important topics and challenges in the field of text mining and knowledge discovery
Opportunities to network with peers and with Linguamatics experts
Hands-on workshops, giving new and experienced users the opportunity to explore the full capabilities of

I2E

, and discuss best practice in consultation with Linguamatics experts
Evening social events
Healthcare track to discuss best practice and use of NLP in healthcare
Partner presentations and exhibits

Who should attend?
New and experienced users of Linguamatics and other text mining software
Any professionals interested in the mining and analysis of textual information
When & Where

Hyatt Regency Newport
1 Goat Island
Newport, RI 02840


Monday, October 13, 2014 at 1:00 PM

-

Wednesday, October 15, 2014 at 4:00 PM (EDT)
Add to my calendar
Organiser
Linguamatics, an IQVIA company, is the world leader in deploying innovative natural language processing (NLP)-based text mining for high-value knowledge discovery and decision support. Linguamatics I2E is used by top commercial, academic and government organizations, including 17 of the top 20 global pharmaceutical companies, the US Food and Drug Administration (FDA) and leading US healthcare organizations. I2E can be used to mine a wide variety of text resources, such as scientific literature, patents, Electronic Health Records (EHRs), clinical trials data, news feeds, social media and proprietary content. I2E can be deployed as an in-house enterprise system, or as Software-as-a-Service (SaaS) on the cloud.