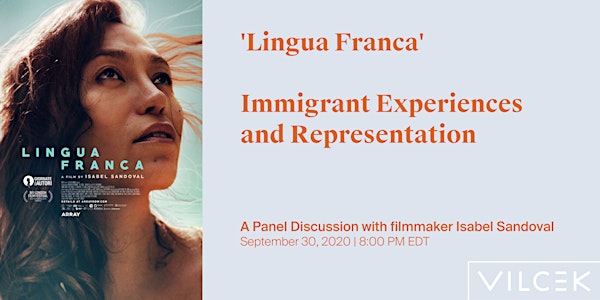 'Lingua Franca' Panel Discussion: Immigrant Experiences and Representation
A panel discussion with filmmaker Isabel Sandoval, moderated by Ricardo Aca, with Rose Cuison-Villazor, Allegra Love, and Jhett Tolentino
When and where
Date and time
Wednesday, September 30, 2020 · 5 - 6:30pm PDT
About this event
Described by Rolling Stone as 'a beautiful study in empathy,' Isabel Sandoval's film, Lingua Franca, explores the interconnectedness and overlap of immigrant communities in New York, and the manifold obstacles that undocumented transgender immigrants face in pursuing legal residency, safety and security in the United States.
In collaboration with the Rutgers Center for Immigration Law, Policy, and Justice, Make the Road New York, ARRAY, and the Hawai'i International Film Festival, the Vilcek Foundation is pleased to support a panel discussion highlighting the issues of immigration and representation in the film, incorporating social, cultural, and legal perspectives.
The discussion will feature insights and remarks from the film's director Isabel Sandoval, producer Jhett Tolentino, and legal experts Rose Cuison-Villazor and Allegra Love, moderated by Ricardo Aca, Senior Digital Organizer with Make the Road New York.
The discussion will be held on Wednesday, September 30, at 8:00 pm EDT/5:00 pm PDT as a Zoom webinar. Upon RSVP via Eventbrite, registered attendees will receive the event link and details on attending. The event will be recorded.
Moderator:
Ricardo Aca
Senior Digital Organizer at Make the Road New York
he/him/él
Panelists:
Isabel Sandoval
Filmmaker
she/her/hers
Rose Cuison-Villazor
Founder of the Center for Immigration Law, Policy and Justice at Rutgers Law School
Vice Dean, Professor of Law and Chancellor's Social Justice Scholar, Rutgers Law School
she/her/hers
Allegra Love
Attorney, and founder of the Santa Fe Dreamers Project
she/her/hers
Jhett Tolentino
Producer, Lingua Franca
Broadway producer
he/him/his
Lingua Franca
Distributed by ARRAY, Lingua Franca is available for viewing in the United States on Netflix. The film had its United States premiere at the Hawai'i International Film Festival in 2019, as part of the Vilcek Foundation's New American Perspectives Program.
Questions?
If you have any questions, contact the Vilcek Foundation's communications manager at info@vilcek.org, or 212.472.2500.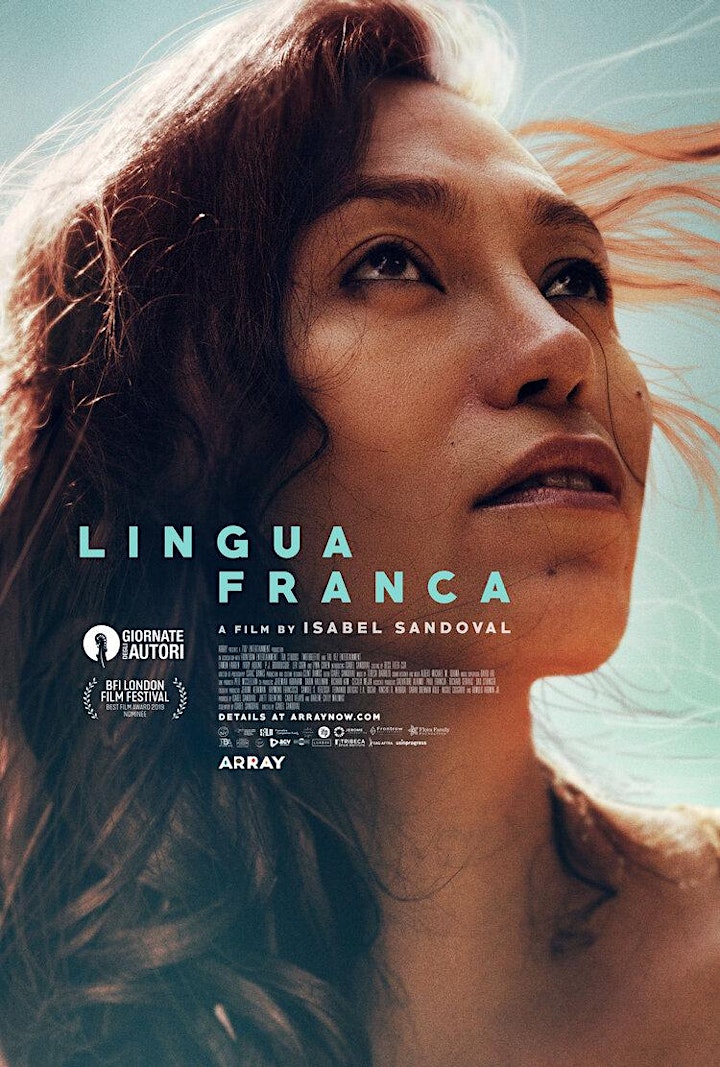 About the organizer
The Vilcek Foundation
What We Do
The Vilcek Foundation raises awareness of immigrant contributions in the United States and fosters appreciation of the arts and sciences.
The arts and sciences need diversity to thrive. Diversity sparks dialogue. Diversity propels innovation. Diversity refines ideas. Immigrants from around the world bring the diverse perspectives that are crucial to strengthening America's cultural community. At the Vilcek Foundation, we honor these essential contributions by recognizing the accomplishments of immigrants and supporters of immigrants in the arts and sciences.
We are committed to inclusive exchange. Through our prizes, we reward immigrant artists and scientists at every stage of their careers. Our grants support the programs and initiatives of other organizations that complement our mission. Whether displayed in an exhibition in our gallery space, sent on tour in a traveling exhibit, or loaned to another organization, our art collection connects the foundation with cultural institutions around the world, facilitating academic and artistic dialogue.
The arts and sciences are creative endeavors, constantly evolving and influencing our society. We are passionate about celebrating immigrant artists and scientists. Their work contributes to the advancement of culture for all of us.
Who We Are
The foundation was established in 2000 by Jan and Marica Vilcek, immigrants from the former Czechoslovakia. Our mission was inspired by Jan and Marica's respective careers in biomedical science and art history, as well as their personal experiences and appreciation for the opportunities offered to them as newcomers to the United States. Since then, the foundation has awarded over $5.1 million in prizes to foreign-born individuals and supported organizations with over $5 million in grants.
The Vilcek Foundation is a private operating foundation, a tax-exempt nonprofit organization under IRS Section 501(c)(3).
21 East 70th Street
New York, New York 10021
All meetings and visits are by appointment or invitation, only. Our facilities are ADA accessible.