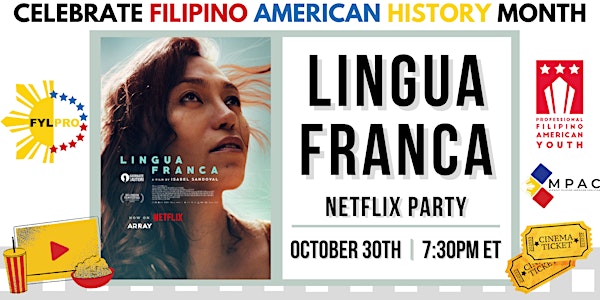 Lingua Franca - FYLPRO Netflix Party
Join FYLPRO, PFAY and MPAC as we watch "LINGUA FRANCA" in celebration of Filipino American History Month!
About this event
ZOOM LINK: https://georgetown.zoom.us/j/92738637066
NETFLIX PARTY: https://www.tele.pe/netflix/edcb1359d3e10bf5?s=s162
Click the red TP icon on your browser to join the party after clicking on this party invite link. After the movie, join us back on Zoom for the panel!
~~~~~~~~~~~~~~~~~~~~~~
In celebration of Filipino American History Month, the Filipino Young Leaders Program (FYLPRO), in partnership with Professional Filipino American Youth, the Midwest Pilipino American Coalition and the Philippine Consul General's Office - Chicago, will be hosting a special screening of Lingua Franca via Netflix Party on Friday, October 30th at 7:30PM!
Join us for an exclusive pre- and post-screening discussion via Zoom with:
Jhett Tolentino, Producer of Lingua Franca and FYLPRO alumnus
PJ Raval, Director of Call Her Ganda
Thop Nazareno, Director of Edward
Joel Trinidad, Artistic Director of Upstart Productions
Moderated by:
Cate Gauguiran, News Reporter at ABC7 Eyewitness News
Louella Rose Cabalona, Lead Singer & Creative Director of SamaSama Project and Vice President of FYLPRO
Leezel Tanglao, Senior Editor at HuffPost and Principal Consultant, StatFury LLC
These panels will be streamed live on FYLPRO's Facebook page.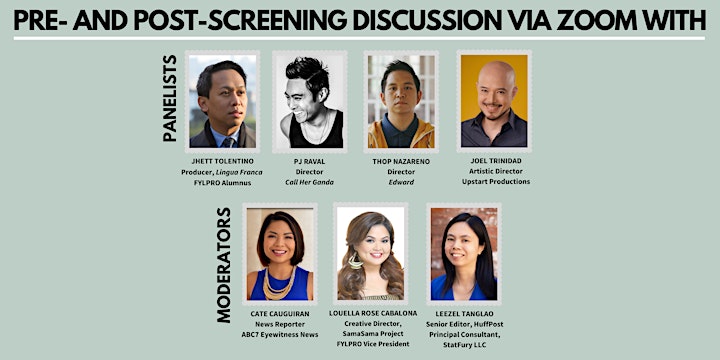 Lingua Franca has gained global recognition including:
Best Picture from the 25th Festival Cheries Cheris (Paris, France)
Best Performance and Best Achievement in Cinematography and Visual Design from the 30th Young Critics Film Desk (Manila, Philippines)
Special Jury Prize at the 33rd All Genders, Lifestyles and Identities (Austin, TX, USA)
Best Narrative Feature at the 6th Bentonville (Bentonville, AR, USA)
Special Jury Diploma at 59th Kyiv Molodist (Kyiv, Ukraine)
Best Film at the 24th Queer Lisboa (Lisbon, Portugal)
Best Narrative Feature at the 30th Oslo/Fusion (Oslo Norway)
Best Actress at the 18th Pacific Meridian International Film Festival (Vladivostok, Russia)
SYNOPSIS OF LINGUA FRANCA: Olivia (Isabel Sandoval), an undocumented Filipinx transwoman, works as a caregiver to Olga (Lynn Cohen), an elderly Russian woman, in Brighton Beach, Brooklyn. When Olivia runs out of options to attain legal status in the US, she becomes romantically involved with Alex (Eamon Farren), Olga's adult grandson, in the pursuit of a marriage-based green card.
NOTE: While this screening will be FREE, an active subscription to Netflix will be required to join this special screening of Lingua Franca. You will need to install the Netflix Party extension onto your Chrome browser. Instructions can be found here: https://www.netflixparty.com/
QUESTIONS: Do you have questions for our panel? Submit them here!