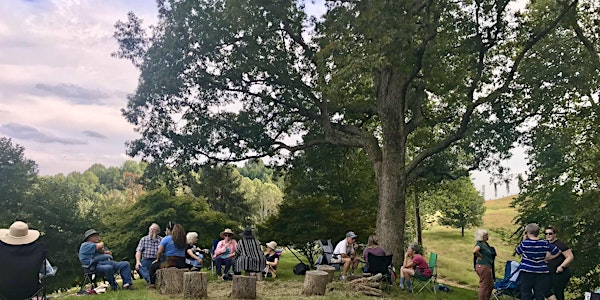 Lingering with the Trees - A Special Gathering
Join us for this special gathering on this 38-acre arboretum with hundreds of rare and beautiful conifers, maples and other delights.
When and where
Location
Birchwood 13223 Loyalty Road Leesburg, VA 20176
About this event
In this very special Church of the Wild, we'll gather among the trees of Birchwood. On this first day of "falling back" to standard time, we'll be attuned to the legthening shadows and the call of shorter days. Beth Norcross, Founder and Executive Director of the Center for Spirituality in Nature, will be our special guest and will offer an introduction to our autumnal theme as we linger among the trees.
Birchwood is a private home located on 100 acres, 38 of which constitute an arboretum with many large trees and specimens collected from the Pacific Northwest. Birchwood is sited on a hilltop with sunrise over the Catoctin mountains and sunset over the Blue Ridge mountains and beautiful vistas in all directions. Catoctin Creek, a designated Virginia Scenic Waterway, runs alongside the land as it flows into the Potomac. The property also contains a young fruit tree orchard, vegetable garden and apiary. The tranquil grounds host myriad birds, insects and woodland creatures.
The location is easily found on your navigation system. It is near Leesburg, about 45 minutes from Shepherdstown and about 45 minutes from Hagerstown.
Registration is free and required for attendance. We need to know who's coming so that we can provide further information about parking and inform you if plans change.
We will start at at 2:00pm. Plan to arrive a little early to allow time to park and walk a few minutes to our gathering location. Our host, Pat Sartorius, will provide an orientation to the land. After brief introductions, we'll move into an hour of silence where you'll be invited to wander on your own through the arboretum, blessing the trees as they bless us. After the walk, we'll come back together to share our experiences before we complete our time together.
Bring your lawn chair, reusable water bottle, and your journal if you choose. We recommend you dress comfortably for walking and wear close-toe shoes. There is no charge for Church of the Wild nor for visiting Birchwood. We suggest you consider a donation toor your favorite tree-protection effort or to the Center for Spirituality in Nature.
Church of the Wild ~ Two Rivers is an always forming community of like-hearted souls, meeting in the midst of and drawing inspiration from the sacred, living earth. Our intent is to deepen our connection to the Holy by being more fully present, open and available in each moment. We learn from the earth and trees, the waters and sky, and from all living beings, human and non-human.
You are welcome! We welcome anyone who seeks to deepen their spirituality through time in nature. Whatever your religious tradition, or if you have none, Christian or otherwise, no matter your gender identity or sexual orientation, you are welcome here.