About this Event
This event will take place at Pimento Rum Bar, 2524 Nicollet Ave S, Minneapolis, MN 55404.
This is an all ages show.
This is both a standing and seated show with general admission, first-come-first-served seating. The Cedar is happy to reserve seats for patrons who require special seating accommodations. To request seating or other access accommodations, please go to our Access page.
General Admission tickets are available online and by phone.
At the door no one will be turned away due to lack of funds.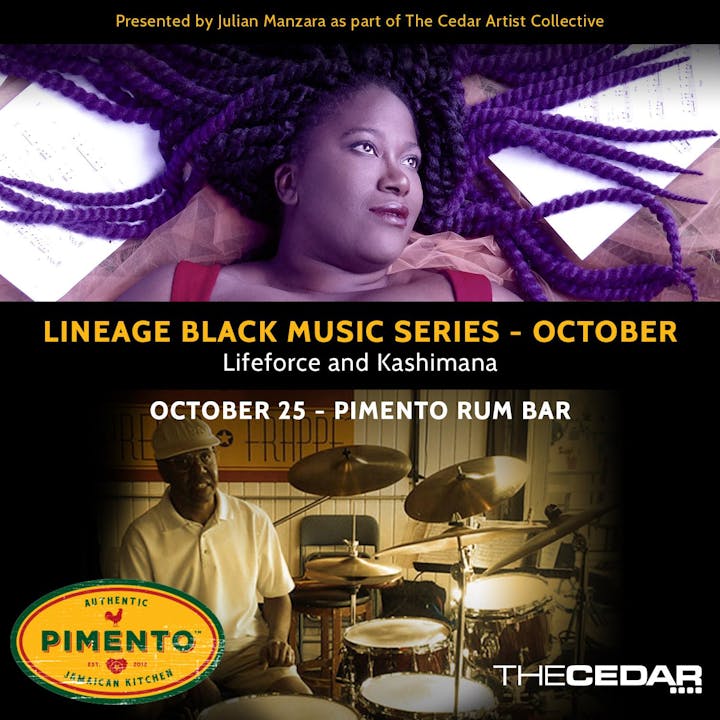 About Lifeforce
The progressive jazz group, LIFEFORCE, led by drummer/composer, Kenne Thomas brings the energy of contemporary jazz.
About Kashimana
Kashimana is a singer-songwriter with a rich soulful blues voice that soars through her original pop acoustic compositions. Along with her distinctive voice, Kashimana's stage presence pulls you in and leaves you in a warm and fuzzy thrall that's hard to shake. Her songs are simple, catchy, and paint compelling stories of her experiences in Africa, Europe and America. Kashimana's rich soulful voice is like the mellow voice of Sade mixed with the raw attitude of Tina Turner and her songs show you where her heart beats
Kashimana performing "Hunny Bunny" courtesy of the artist's YouTube channel.
About The Artist Collective
The Cedar's Artist Collective is a group of curatorial artists and cultural liaisons from Black, Indigenous, and People of Color (BIPOC) communities who are advising efforts at The Cedar Cultural Center to expand access and diversify programming. The group is comprised of of artists associated with Midnimo and the Cedar Commissions: Ritika Ganguly, Julian Manzara, Dameun Strange, Harbi, Ifrah Mansour, and Greg Grease.
These innovative artists have spent 2019 curating their own shows at The Cedar, developing initiatives to increase access to the arts at The Cedar, and advising our staff and programming. This is The Cedar's first-ever multicultural, multi-genre music collective in the organization's 30-year history.