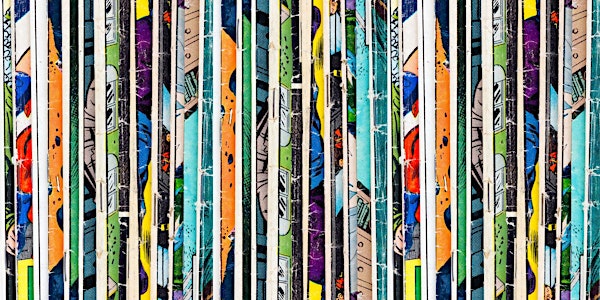 Lindley Lecture on Law & Comics 2019 - Our Tenth Anniversary!
When and where
Location
San Diego Central Library, Neil Morgan Auditorium 330 Park Boulevard San Diego, CA 92101
Description
About the Program:
It's our tenth anniversary. Join us at the San Diego Central Library's Neil Morgan Auditorium on July 16th at 4:00pm for the tenth annual Lindley Law & Comics panel. The panel will examine what comic creators need to know about the law. Learn from creators and attorneys who've been there. Don't forget to visit the law library for more resources on creating and protecting your comic or any other intellectual property.
About the Speakers:

Stu Rees has a solo legal practice representing hundreds of cartoonists in syndication and licensing contracts, while his Stu's Views cartoons have been published in several hundred print and electronic forums throughout the world.

Rob Salkowitz is a consultant, educator, and author of several books including Comic-Con and the Business of Pop Culture. He covers the business side of comics, entertainment, gaming, technology and related industries for Forbes, Publishers' Weekly, ICv2, OMNI, and other publications. He gave a TEDx talk called "Transmedia in the Hour of the Nerd" in 2012. Follow him on Twitter @robsalk or visit his website, robsalkowitz.com.

Jonathan Maberry is a New York Times bestselling author, 5-time Bram Stoker Award winner, and comic book writer. He writes in multiple genres including suspense, thriller, horror, science fiction, fantasy, and action; and he writes for adults, teens and middle grade. He is a board member of the Horror Writers Association and the president of the International Association of Media Tie-in Writers. His works include the Joe Ledger thrillers, Glimpse, the Rot & Ruin series, the Dead of Night series, The Wolfman, X-Files Origins: Devil's Advocate, Mars One, and many others. His comics include Road of the Dead: Highway to Hell and Black Panther: DoomWar. His vampire apocalypse book series, V-WARS, is in production as a Netflix original series, starring Ian Somerhalder, and will debut in 2019.He runs a monthly writers coffeehouse as well. Follow him on Twitter
About the Moderator:
Lisa Ramsey is an attorney and professor at the University of San Diego School of Law.
About MCLE credit
1 hour MCLE General Participatory credit available, provided by the San Diego Law Library.