Now Showing at Gallery 625!
About this event
The Hot and Cold of It, features the mixed media artwork of Linda Nunes.
"My desire is that these paintings offer an invitation for the observer to linger, to consider what is beneath, covered or peeking through these layers of tactile and complex surfaces of hot or cold bee's wax media."
Gallery 625 is located at 625 Court Street in Woodland, in Yolo County's Erwin Meier Administration building and is open Monday - Friday 8 a.m. - 5 p.m., and by appointment. For more information, contact YoloArts at ya@yoloarts.org
Hot and Cold of It continues at Gallery 625 through August 3. Image (detail):
Saucer Over Santa Monica (detail) , Linda Nunes, Oil, cold wax and mixed media
The exhibition can also be viewed virtually at https://yoloarts.org/online-galleries/
LINDA NUNES is a mixed media artist from the Bay Area, and resides in the Sacramento area. She holds a Studio Arts degree from CSU Sacramento. Nunes has exhibited paintings, sculpture, large permanent and temporary installations locally and in the Bay Area, including several large commissioned pieces for restaurants and other commercial spaces. Her work is part of numerous private collections throughout California and the U.S. She currently serves on the board, and curates for, Sierra Wax Artists, a Sacramento region chapter of International Encaustic Artists (IEA). Nunes is a co-founder of Rancho Cordova Arts.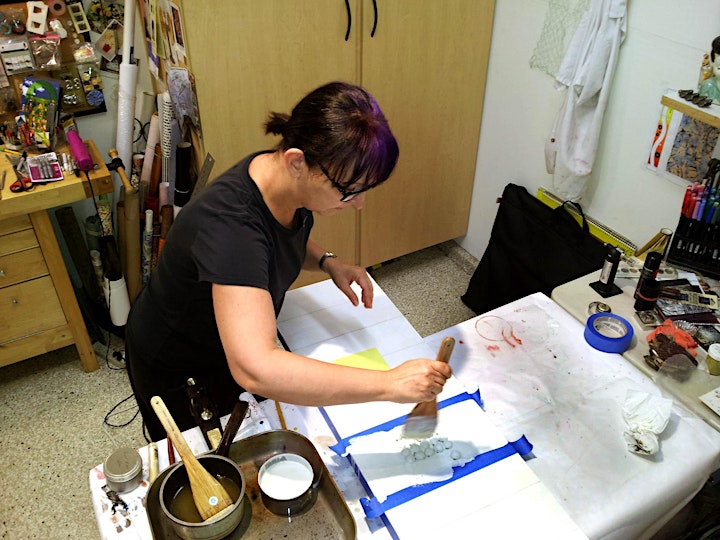 Organizer of LINDA NUNES - The Hot and Cold of It
YoloArts is a non-profit organization, founded in 1981 as a recommendation of the Yolo County Cultural Plan to further the arts and culture of the county.
YoloArts mission is to cultivate and advocate support for all the arts, to participate in advancement of arts education in ours schools and community, and to foster communication among artists, business, education, government, and the residents of Yolo County.