Location
Prairie Lakes Theater
515 East Thacker Street
Des Plaines, IL 60016
Refund policy
Contact the organizer to request a refund.
Eventbrite's fee is nonrefundable.
Chicago Summer Opera performs with orchestra and a cast nationally renowned young artists. Come and join for a wonderful evening of music.
About this event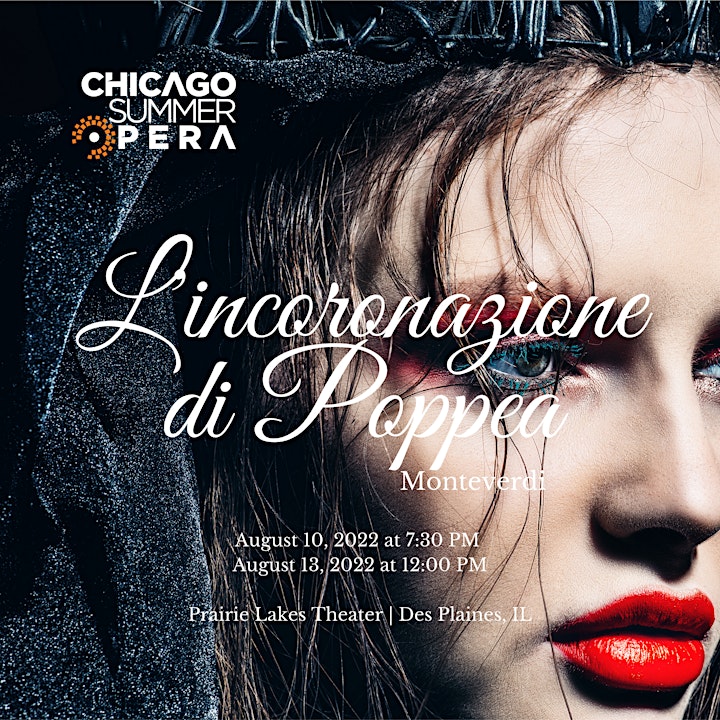 CREATIVE TEAM
Conductor: Nathan Cicero
Director: kt shorb
Assistant Conductor: Colin Roshak
Assistant Director: Marinette Gomez
The opera opens with the goddesses of Virtue and Fortune debating who has the greatest power to sway humanity. The god of Love interrupts to argue his superiority by way of a story. Ottone arrives at the home of Poppea, his beloved; however, her villa is guarded by Emperor Nerone's soldiers. In his passionate entanglement with Poppea, Nerone is not only stepping out on the Empress Ottavia, but also neglecting his duties as emperor. However, their passion is strong and neither lover heeds the warnings of those around them, like Arnalta and Seneca, that their affair could backfire. In fact, Nerone has no interest in the political expediency of hiding his love. He wants to abandon Ottavia and marry Poppea instead, crowning her as the new empress.
Seneca is punished for questioning Nerone's plans; after several death omens, the emperor orders him to kill himself. His death is riotously celebrated by Nerone and the poet Lucano. Meanwhile, Ottone has contented himself with marrying Drusilla. He had previously desired to kill Poppea, but demurs; however, Ottavia orders Ottone to follow through with the murder. He dresses as Drusilla to disguise himself, but Love intervenes just as he is about to kill Poppea, preventing him from dealing a fatal blow.
As the opera races towards its conclusion, its moral complexity, particularly for a work composed in the early Baroque era, is noteworthy. Nerone and Poppea's courtly love follows the conventions of the time, but their behavior is far from admirable; however, they are rewarded at the opera's conclusion. Other characters possess both good and bad qualities, but their own desires are no match for the determined power of Nerone and the intensity of his and Poppea's love. Monteverdi's final opera, just decades after the birth of the art form, not only demonstrates his mastery of the genre but his awareness of the complex human condition.
Note: General social distancing guidelines will be encouraged. For the safety of our audience, the theatre will not be at full capacity. We encourage unvaccinated audience members to wear a mask.