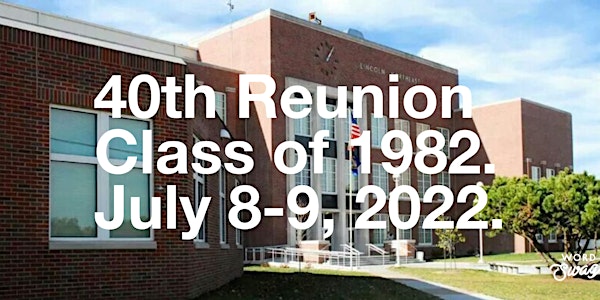 Lincoln Northeast Class of 1982 40th Reunion
Location
The Royal Grove
340 West Cornhusker Highway
Lincoln, NE 68521
Lincoln Northeast High School, Class of 1982 40th Reunion is July 8-9, 2022. Registration and payment site.
About this event
1982 Northeast Rocket Reunion - 40 Years!
Use this registration page to officially register and pay for our 40th reunion. The cost is $15 per person for the entire weekend of fun.
IMPORTANT. Be sure to indicate your attendance to each individual event using the EVENT PAGES on our Facebook Group -https://www.facebook.com/groups/northeasteightytwo . This is how we will get a headcount for each event so we can plan accordingly.
AGENDA
July 8, 2022
5-8pm
Side Show Spirits Bar/Boombox Social,1630 P St, Lincoln, NE 68508
An evening with friends
- Heavy appetizers provided, cash bar, memory video, beer garden, eighties music and more.
- Reconnect with your classmates. Share memories. Lots of time to talk.
- Wear your colors. Show your school spirit. Be a Rocket Booster - black and white attire is encouraged
July 9, 2022
- 9:00 am Northeast High School tour. 2635 N 63rd St, Lincoln, NE 68507 Meet at the front entrance of the school.
- 10:30 - 11:30 am Morning yoga flow at UNL East Campus Maxwell Arboretum.
- 1:00pm Golf. Nine holes at Mahoney Golf Course, 7900 Adams St, Lincoln, NE 68507
$28 for nine holes includes a cart. Pay upon arrival. Rental: Options: Golf clubs - $7 Golf Cart - $9.25 Push Cart - $4.20 Sign up information coming.
6:00 - 8:00pm Dinner at The Royal Grove, 340 W Cornhusker Hwy, Lincoln, NE 68521
Food Trucks, Cash Bar, MTV Music Videos from the 80s, and more time to catch up with friends. Purchase your dinner from Taco Azteca and Gilded Swine (a veg/vegan option available) then grab a cocktail or beer at the cash bar. We will have the place to ourselves from 6-8pm.
7pm GROUP PHOTO
To honor our friends who are no longer with us, we will be presenting a special memorial video. Then a surprise way to get to know each other all over again. Curious? Just show up. It will be a fun time to continue to reconnect and share memories.
The Royal Grove opens up to the public at 8pm. We have invited Lincoln Northeast classes from 1980, 1981, and 1983, as well as anyone who graduated from Northeast to join us at this time. There will be a small cover charge for the public to attend.
8:00 - 12 midnight '80's Dance Party!!! at The Royal Grove
The 402 Band will be performing 1980s hits all night long. Check them out at https://www.facebook.com/The402band Get your dance shoes on because we want to make this night a memorable one. The class of 1982 will have the upper level of the venue reserved just for us, with our own private bartender. Simple snacks will be served throughout the evening.
Let's bring out all those old moves and dance the night away!
The following morning is in your own.
MISC INFO
Hotel Accommodations Holiday Inn Express Downtown, 905 O St, Lincoln, NE 68508•(402) 904-6701
This link is for our special Northeast Reunion hotel registration page. This is what our classmates need to use when they reserve their room.
https://www.hiexpress.com/redirect?path=rates&brandCode=EX&localeCode=en®ionCode=1&hotelCode=LNKXS&checkInDate=07&checkInMonthYear=062022&checkOutDate=10&checkOutMonthYear=062022&_PMID=99801505&GPC=NER&cn=no&viewfullsite=true
Please update your contact information in LPS's official site. This will make is easier to find everyone when we meet again.
https://www.foundationforlps.org/get-assistance/alumni/update-your-information-or-sign-up.html
Order your Rocket Gear here and show your school spirit.
https://l.facebook.com/l.php?u=https%3A%2F%2Fsideline.bsnsports.com%2Fschools%2Fnebraska%2Flincoln%2Flincoln-northeast-high-school%3Ffbclid%3DIwAR10Cl4Fqxm9PQu2scAnxfMVC_5HS6GoHxQ0toruSZ7KY6rQkFVr3Yqepik&h=AT3zNtKlzX50r8q-tS6_AvMz5Jbfu11ggVXh63i7QyRQERQnCqxtrxD331Qe2_u-2wCEJvffb2wwueJnyMeALKiHcf20PP75iB1TcQljUimXwqDQKiWuYDZg_FSwmtbrhzDK&__tn__=-UK-R&c[0]=AT2pIKNNyVmVfff1BHYRQUeyuSJ4hoXbweARFo7TaPOaKuCLQmSjp5Lac9CLGoJ4N27CPaFcFERh6-B6ztUg-8glpRHcQZr_Z74Jd3xN1_NvguJpdfnodIV3eT6UnotZj4GzHY8HQUiPMnWYA2rF4caiRknMY0A0q1BC9mu1uWFSH-E7LSaR1eIXztBdi7JwQJWPh3-gG8bPkGVLdw
Until we all meet again..... Go Rockets!