Description
Lincoln College invites you to join us for the Lincoln Leads Seminar Series 2018.
The seminars take place on Thursday evenings during Hilary term at Lincoln College, Oxford. Each panel features an Alumnus/na, a Fellow, and a Student of the College, who will respond to a topical question linked to their research or professional experience. Following a wine reception at 5pm, each seminar will start at 5.45pm, culminating in a lively Q&A session. We have a fantastic group of panellists scheduled for the series, who aim to invite non-specialist audiences into their spheres of expertise. We therefore hope that you are eager to join them in conversation, and learn more about the exciting and diverse research connected to Lincoln.

All tickets are free, but must be booked in advance. To book tickets, please select the date of the seminar you wish to attend from the 'Select a Different Date' menu, and then 'Register' your selection.
Please see the series poster below for the full details of seminar dates, speakers, and themes: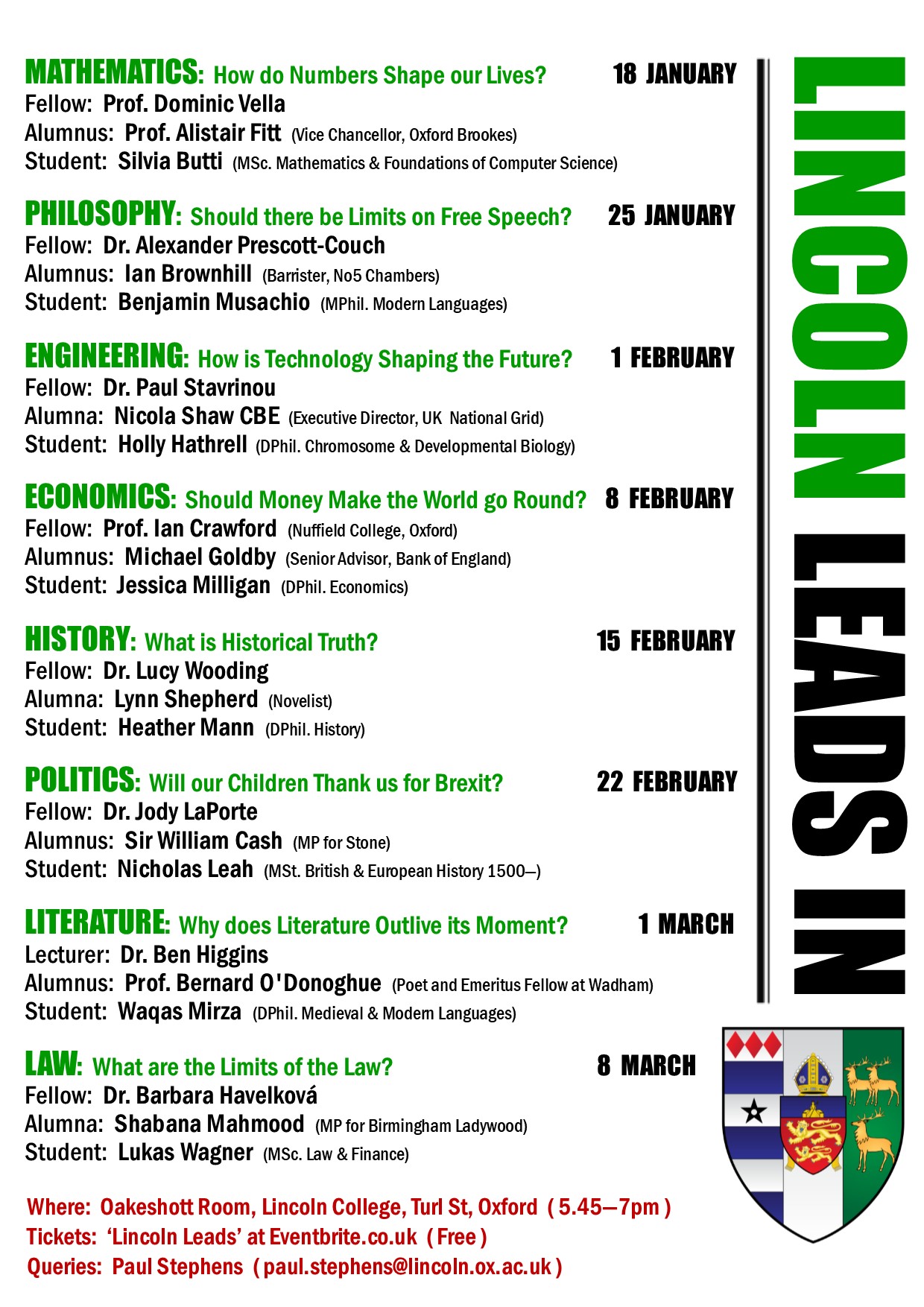 The Lincoln Leads Seminar Series 2018 has been convened by Paul Stephens (MCR Academic Representive), and will be chaired by the members of the current MCR Academic Team:
Mathematics: Francesca Donnellan (DPhil in Clinical Medicine)
Philosophy: Lauren Malm (MSt in English (1700-1830))
Engineering: Xanita Saayman (DPhil in Molecular Cell Biology)
Economics: Caspar Pfrunder (MSt in British & European History (1500-))
History: Emily Glassford (DPhil in History)
Politics: Heather McTaggart (MSt in British & European History (1500-))
Literature: Irene Wang (MSt in History of Art & Visual Culture)
Law: Paul Stephens (DPhil in English)
FAQs
How can I contact the organizer with any questions?
Contact: Paul Stephens (paul.stephens@lincoln.ox.ac.uk)
Do I have to bring my printed ticket to the event?
No. We will have a list of ticketholders at the entrance to the venue.
I am an alumnus/a. May I come to High Table?
Please contact Julia Uwins the Alumni & Development Office if you would like to book dinner (julia.uwins@lincoln.ox.ac.uk)
How accessible is the venue?
The Oakeshott Room at Lincoln College is fully accessible to those who use a wheelchair.