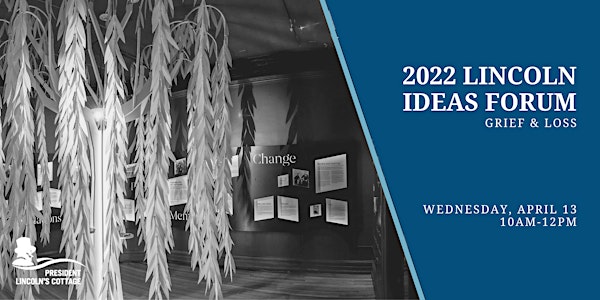 Lincoln Ideas Forum: Grief & Loss
Our 7th annual Lincoln Ideas Forum brings together experts and the public to explore the present-day ramifications of Lincoln's ideas.
When and where
Location
President Lincoln's Cottage 140 Rock Creek Church Road Northwest Washington, DC 20011
Refund Policy
Contact the organizer to request a refund.
Eventbrite's fee is nonrefundable.
About this event
Grief is part of our origin story at President Lincoln's Cottage. After losing their 11- year-old son Willie in February of 1862, Abraham and Mary Lincoln sought solace and a place to grieve when they moved to the Cottage at the Soldier's Home. The quiet of the Cottage grounds provided the quiet they craved; but these grounds also brought the Lincolns closer to the human cost of war. The collective grief of a nation at war was on full display in the US Soldier's and Airmen's Home National Cemetery, located just a couple hundred yards from the Cottage's front door.
Now, as then, our grief-averse nation is gripped by collective grief and the dual pandemics of COVID-19 and centuries-old systemic racism rooted in the legacies of slavery. Join us as we bring together experts, scholars, and the public to cultivate fierce compassion for the bereaved in a society that is largely afraid of grief.
This program is free and open to the public. Please register to reserve your space. If you're not able to join us in person, please tune in to the livestream day-of, and register using a Virtual ticket.
You can also support President Lincoln's Cottage and programming like this by making a donation.

SPEAKERS
Stacy Lynn, Moderator
Stacy Lynn will be joining us in person. She earned a Ph.D. in American History from the University of Illinois and was an editor and assistant director at the Papers of Abraham Lincoln for twenty years. She is the author of numerous essays and articles and two books, including Mary Lincoln: Southern Girl Northern Woman (2015). Currently, she is Associate Editor of the Jane Addams Papers. In 2014, her twenty-year-old daughter Mackenzie, a college junior, died while studying abroad in Spain. Stacy's loss and grief coincided with the final manuscript work on her Mary Lincoln biography, which intensified her empathy for the Lincolns and provided a healing historical perspective for her personal sorrow.
Suzanne Firstenberg, Speaker
Suzanne Brennan Firstenberg will be joining us in person. She is the social practice artist who created In America: Remember, an art installation of over 700,000 white flags on the National Mall in September, 2021, honoring those lost to COVID. Her art draws viewers in with beautiful aesthetics, then delivers a visceral message on themes ranging from the political divide, to homelessness, to drug addiction. Honored as a Washingtonian of the Year for 2021, Firstenberg believes when words fall on unlistening ears, art is no longer an elective, it becomes an imperative.
Dr. Joanne Cacciatore, Speaker
Dr. Joanne Cacciatore will be joining us virtually. She is a tenured research professor at Arizona State University, founder of the international NGO the MISS Foundation since 1996 and the Selah Carefarm since 2016, and author of the award winning best seller, "Bearing the Unbearable: Love, loss, and the heartbreaking path of grief". Her work at the Selah Carefarm was featured on Oprah and Prince Harry's docuseries, "The Me You Can't See" in 2021. Dr. Cacciatore has been researching and practicing in the area of traumatic grief for more than a quarter of a century. As a scholar, her work was ranked in the top 2% amongst 8 million scholars worldwide in her field using a composite measure.
Marisa Renee Lee, Speaker
Marisa Renee Lee will be joining us virtually. She is a called upon grief advocate, entrepreneur, and author of the upcoming book Grief is Love. Deemed "the friend we all wish we had in times of need," by Elaine Welteroth, Marisa is able to utilize research-based advice and wisdom to help others navigate the complicated and dark emotions we face when experiencing loss, offering unique insights for women and Black communities. In addition to her work in the grief space, Lee is a former appointee in the Obama White House and CEO of Beacon Advisors, a mission-driven consulting firm primarily focused on racial equity. She is a rabble-rouser of social healing: former managing director of My Brother's Keeper Alliance; co-founder of the digital platform Supportal; and founder of The Pink Agenda, a national organization dedicated to raising money for breast cancer care, research, and awareness. Lee also regularly contributes to Glamour, Vogue, MSNBC, and CNN and serves as an expert for Ritual's wellbeing app. She is a Harvard graduate and an avid home cook. Marisa lives in Virginia with her husband Matt, their newborn son Bennett, and their dog, Sadie.
Stephen J. Cozza, M.D., COL U.S. Army (Retired), Speaker
Stephen J. Cozza, MD will be joining us in person. He is Professor of Psychiatry and Pediatrics at the Uniformed Services University where he serves as Associate Director, Center for the Study of Traumatic Stress. He is a graduate of the United States Military Academy at West Point, New York. He is a Distinguished Life Fellow in the American Psychiatric Association and a Life Fellow in the American Academy of Child and Adolescent Psychiatry. He retired from the U.S. Army in 2006 after 25 years of military service. Dr. Cozza's professional interests have been in the areas of clinical and community response to trauma in both military and civilian communities, including the impact of deployment and combat injury, illness and death on military service members, their families and their children. Dr. Cozza has published and presented on the risk for prolonged grief disorder, a unique grief-related clinical condition, in families affected by sudden and violent deaths, including those bereaved due to combat, suicide, homicide, accident, and terrorism.
BOOK SALES
Visit our online museum store to purchase the following books by Forum speakers:
Grief is Love, by Marisa Renee Lee
Grieving is Loving, by Dr. Joanne Cacciatore
Your purchase supports the great work of these speakers and our programming at President Lincoln's Cottage.
SAFETY & VISITOR GUIDELINES
Covid-19 Safety
It is recommended that visitors three years and older wear face masks when inside buildings on the grounds. This event will take place indoors in President Lincoln's Cottage, with limited audience capacity and expanded ventilation measures. When possible staff and visitors will maintain 6-feet of social distancing to reduce the risk of COVID-19 exposure.
Armed Forces Retirement Home
President Lincoln's Cottage is on the grounds of the Armed Forces Retirement Home. Security for the Armed Forces Retirement Home requires visitors to show valid identification at the security gate in order to enter the property.  Please be prepared to show your ID.
Exploring beyond the boundaries of President Lincoln's Cottage is not permitted and results in trespassing on federal property.
Agreement
Please note that an inherent risk of exposure to COVID-19 exists in any public place where people are present. Choosing to visit President Lincoln's Cottage, you voluntarily assume all risks related to COVID-19 exposure. By completing this transaction, you agree to wear a mask at all times, maintain social distancing, and observe all posted guidelines. More information and details about our safety guidelines are available on our website.
All events are considered public events for the purpose of photography and video.
Contact
Questions? Contact President Lincoln's Cottage with any questions at 202-829-0436 or info@lincolncottage.org.