Description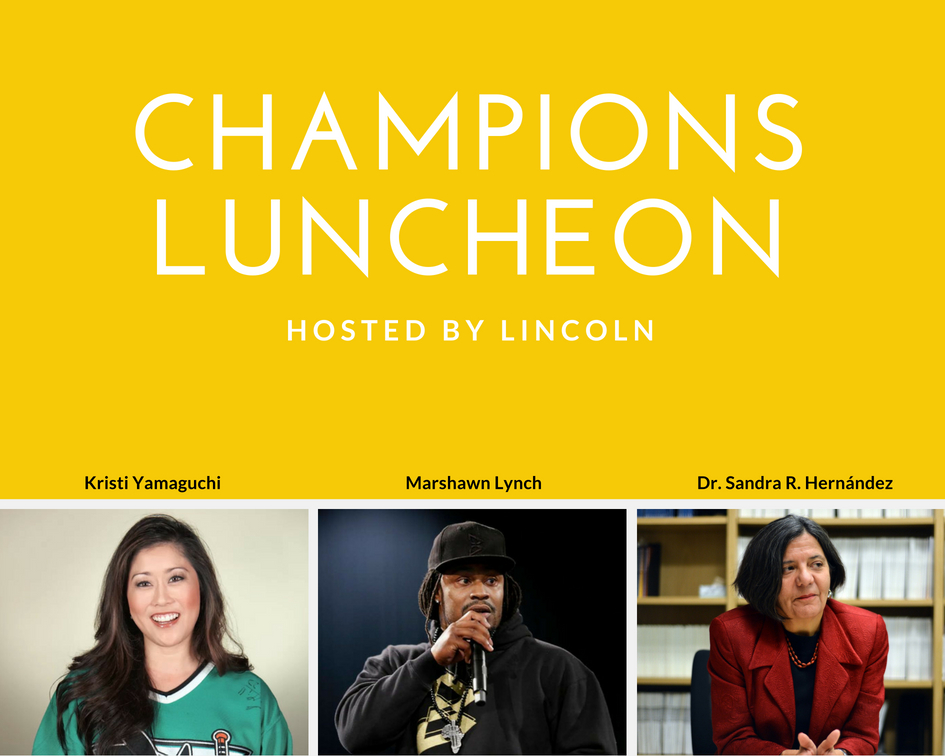 In the spirit of celebrating 135 years of transformational work in the Bay Area, we formally invite you to the first-ever Lincoln Champions Luncheon! Spend a thrilling morning with Kristi Yamaguchi, Marshawn Lynch, and Dr. Sandra R. Hernández as they join us in advocating for children's futures! Since 1883, Lincoln has provided quality school and home services, driven policy in favor of children's welfare, and expanded resources so Bay Area families have the best possible outcomes for success.
Join us as we honor 3 incredible individuals who have made extraordinary contributions to education, family strengthening, and well-bring work in our communities, mirroring Lincoln's own work. Join them and hear about the impacts they've made in the community:
Kristi Yamaguchi | Education Champion Honoree
American former figure skater and Olympic gold champion, Kristi Yamaguchi will be honored for her passion and commitment to early childhood literacy and the Always Dream Foundation's innovative reading programs for underserved children, empowering them to reach for their dreams
Marshawn Lynch | Family Champion Honoree
Oakland Raiders running back, Marshawn Lynch will be honored for his passion and commitment to improving the lives of children through mentorship focused on self-esteem, education, and literacy.
Dr. Sandra R. Hernández | Well-Being Champion Honoree
President and CEO of the California Health Care Foundation, Dr. Sandra R. Hernández will be honored for her passion and commitment to advancing improvements in the health care delivery system and eliminating disparities in access for those with low incomes.
---
SPONSORSHIP INFO
For sponsorship information or to pay by check or credit card, please contact Katherine Enad at 510.273.4700 or katherineenad@lincolnfamilies.org,