Description
Book your Santa Visit


He'll be showing up in a limo and ready to take the family for a spin around the block while the children talk with him about what they want for Christmas. Have no kids? Not to worry, Santa visits adults too. He'll scoop you up and take you for a spin around the block too.
Call now because our dates are filling up fast.
$175.00 includes
Santa shows up in decked out Limo
Family goes for a Limo spin
Children talk with Santa (maybe the elves too, if not too busy this year)
Pictures will be taken and will be sent to you by the end of the evening.
Snacks and drinks provided.
Call or Text 512-675-0101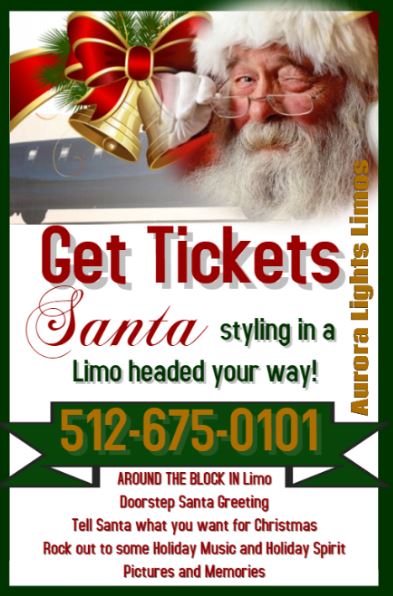 Presented by Aurora Lights Limos and Transportation
Check us out on Facebook @auroralightslimos
See us on Yelp / search Aurora lights limos and transport, Round Rock , Tx
See our Website - www.auroralightslimosandtransport.com
We're looking forward to hearing from you... Happy Holidays