Limits of AI Conference

Tuesday, June 25, 2019 from 1:30 PM to 6:30 PM (CEST)
Event Details
The best way to prepare for the future is
UNDERSTAND IT
Artificial Intelligence (AI) is increasingly impacting our everyday lives, our businesses, and our society. Whether its a voice on a smart speaker, augmented reality on a smartphone, or an algorithm determining whether we qualify for a loan, the impacts of AI are felt in families and workplaces across France.
It's important, then, to reflect on the limits of this new technology, both what they are and what they should be. How closely should our lives be interconnected with machines? What does it mean to be intelligent in a world where Alexa and Siri seem to know all the answers? And are there any technological limits to where AI will take us next year, or in the next decade?
The Limits of AI Conference welcome industry leaders, researchers, and policymakers to an event that seeks answers to these questions.
On Wednesday 25 June, Bpifrance will welcome academic experts and solution providers, businesspeople and ethicists, AI pioneers and startups on the cutting-edge of tomorrow's AI. Together they will explore what the limits of AI are, what they should be, and perhaps whether there are any limits at all.
Join us for engaging discussions, frank and honest debates, and impactful presentations from speakers including the inventor of Siri and now Samsung VP Luc Julia, Augmented Intelligence thought leader and OECD AI expert Michel Morvan, and former CERN member, renowned data scientist Daniel Covacich, and more.
Talks and panels from top AI researchers and experts on Machine Learning and Heads of AI.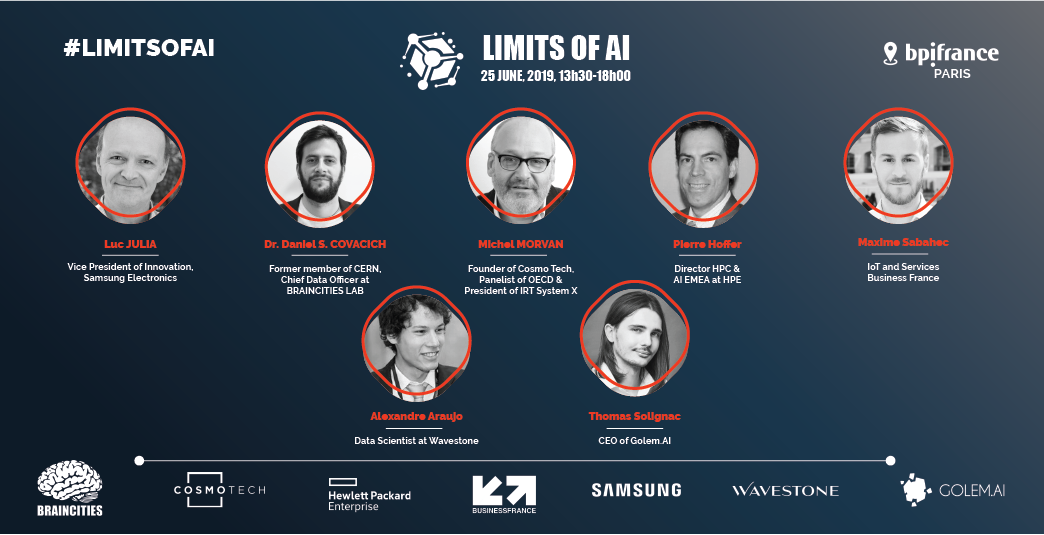 Luc JULIA
Vice President of Innovation, Samsung Electronics
Michel MORVAN
Founder of Cosmo Tech, panelist of OECD & President of IRT System X
Dr. Daniel S. COVACICH
Former member of CERN, Chief Data Officer at BRAINCITIES LAB 
Pierre Hoffer
Director HPC & AI EMEA at HPE
Alexandre Araujo
Data Scientist at Wavestone & PhD Student at Paris-Dauphine University 
Thomas Solignac
CEO of Golem.AI
Maxime Sabahec
Business France
PRACTICAL INFORMATION
Conference in French
Door Opening: 13h30
Start: 14h
End:  18h
Getting here: BpiFrance, 6 Boulevard Haussmann Paris 75009
Metro: Richelieu - Drouot (line 8 & 9)
Bus: lines n°20, 74, 85, 30
Tickets price: 15€ (part proceedings will go towards local charity A Petits Pas pour Lina and Eventbrite fees)

A Petits Pas pour Lina (APPL)
"On avance avec la différence"  "We go forward with difference"
N' RNA 931012899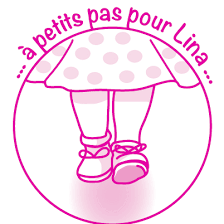 #LimitsofAI
When & Where

Bpifrance
8 Boulevard Haussmann
75009 Paris
France


Tuesday, June 25, 2019 from 1:30 PM to 6:30 PM (CEST)
Add to my calendar
Organizer
BRAINCITIES bridges the gap between Humans and their ever-changing environments by making ecosystems like Cities and Companies Smarter With its Human-Supportive Artificial Intelligence.
Founded in 2013, BRAINCITIES LAB is a French Startup based in Paris. The company specializes in Artificial Intelligences and Data Science. We create dynamically evolving knowledge bases to train then fuel our predictive models and measure the maturity of evolving processes.
We combine our Artificial Intelligence with a deployable distributed infrastructure as a service: DATACHAIN. DATACHAIN and our universal personal data wallet, are natively compliant with European GDPR regulations. The associated services and protocols secure the data used by our Algorithms to provide accurate and reliable recommendations to individuals, businesses, and governments. Datachain's infrastructure is powered by a neural network, which will ultimately be the first decentralized cognitive operating system. By 2025 DCoS will endow all computerized equipment with judging and empathy capabilities for better interactivity with humans.
Looking for a solution to growing your business with AI, today?
Contact us:

21 Bvd Haussmann
75009, Paris
Tel. +331 56 03 67 52
Tel. +447 413 341 581
contact@braincities.co
www.braincities.co