Description
ATTENTION ALL WOMEN!
Join us December 2nd for an amazing day of Fun, Fitness, Finance, and Faith!
Limitless for women is an event hosted by NBC University and Dr. Kara Scott Dentley. This event is designed to empower you to live your life out loud.
THE #1 EVENT FOR WOMEN ENTREPRENEUR & BUSINESS GROWTH
The Limitless Conference for women. It's a gathering of women around the World, Where anything is possible. At the Limitless Conference women from all over the country, all over the world will engage with like-minded women as we, Accept our responsibility for becoming powerful, as we learn the Key Steps to our economic empowerment. At each conference, we bring women from all industries that have made an impact in the world with their innovation.
You will leave this event empowered and experiencing REAL RESULTS. Many take what they've learned and scale their businesses, get that next promotion, land their dream jobs and get bonuses, improve their relationships and increase their influence from this dynamic training.


Attendees will use these new skills to overcome obstacles that have held them captive for a lifetime. No matter what you do with it, you can be sure that you'll be equipped to succeed beyond your wildest dreams while bringing others along with you for the ride. Just do it!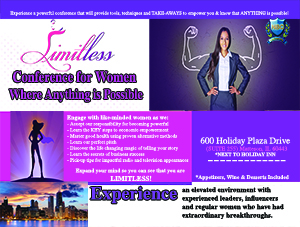 AT THIS EVENT WE WILL SHOW YOU HOW TO…
– Accept Our Responsibility for Becoming Powerful

-Learn the KEY Steps to Economic Empowerment

– Master Good Health Using Proven Alternative Methods

– Learn Our Perfect Pitch – Discover the Life-Changing Magic of Telling Your Story

– Learn the Secrets of Business Success

– Pick-up Tips for Impactful Radio and Television Appearance
An Event For Women By Women!