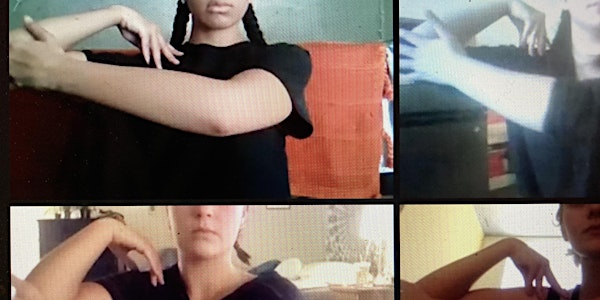 LIMINALE (ENGL) by Alice Gosti | MALACARNE
With LIMINALE Alice Gosti flips site specific work inside-out, zooming into our private spaces turned public, our togetherness apart.
Refund Policy
Contact the organizer to request a refund.
Eventbrite's fee is nonrefundable.
About this event
LIMINALE is a live online performance, featuring dancers located both in the US and in Europe. It will take place in three time zones: 12pm PST (L.A.), 3pm EST (N.Y.), and 9pm CET (ITALY).
With LIMINALE, site-specific choreographer Alice Gosti questions the way the pandemic has accelerated the process of private spaces becoming more and more public. Born as a necessity to continue to create work and experiment with virtual platforms during the covid-19 pandemic, LIMINALE is a live performance designed and created specifically for Zoom.us. This is a unique live performance in which each performer streams directly from their personal spaces, using environments, furniture and memory as inspiration for the movement material. This unique Zoom live performance encourages the audience to participate actively and to become co-creators of the performance. It takes on the condition of confinement, transforming living space into creative space, activating memories and everyday objects, and unveiling surprising movements inspired by home.
"Zoom enables us to see the interior of people's homes. The intimacy and privacy of one's own home is now, for most of us, on display regularly. At the same time Zoom is where we create and rehearse, allowing us to collaborate with performers in the U.S. and Europe, and share our work with audiences around the world, a level of outreach and collaboration that in live performance is simply impossible. LIMINALE has flipped our site-specific work inside out. We've adapted and been inspired to apply the knowledge, scores, concepts and philosophies we've developed for many years within outdoor non-conventional theater spaces, to our own homes. We perform from our homes which are now stages and sets, and we come directly to your own home." - Alice Gosti
The performance will feature dancers Matilde Bassetti, Alyza DelPan-Monley, Sarah Hogland, Margaret Hotchkiss, Lorraine Lau, Fabiana Mangialardi, Kaitlin McCarthy, Symone Sanz, and Dominique See.
Music Composition, Monika Khot // NORDRA, Visual Design Consultant, Amiya Pennebaker-Brown, Program Design, Alyza DelPan-Monley.
PLEASE NOTE: zoom instructions for this performance will be given in English by Alice at the top of the show. If you prefer to attend the performance with the zoom instructions in Italian, we suggest attending the show taking place at the same time on February 27th --> https://www.eventbrite.com/e/biglietti-liminale-by-alice-gosti-malacarne-133330157089
Both days will feature the same performance, with the only change being the language in which instructions are given at the beginning.