About this Event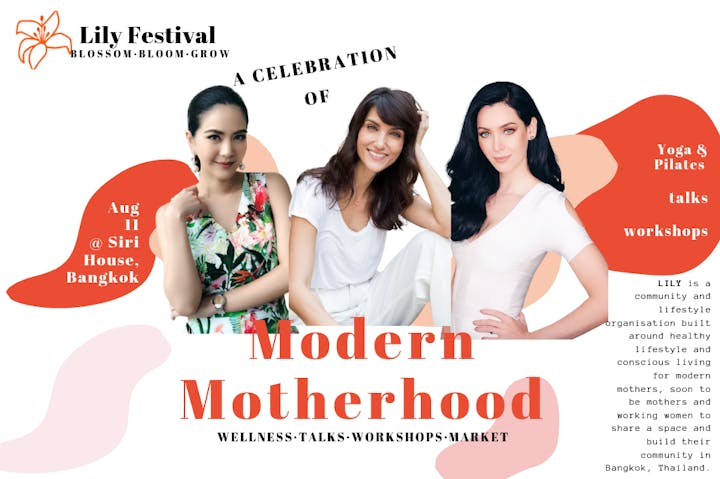 (ภาษาไทยอยู่ด้านล่างค่ะ)
Lily Festival is a one day gathering that pays homage to the rising popularity of wellness and sustainable lifestyle events in Thailand but with a different focus: modern day mothers, soon to be mothers and working women.
The evolution of technology in our modern society over just the last 20 years alone has seen us change the way we live, think and feel drastically. What does this mean for modern mothers?
Lily Festival will create an environment and safe space for all women to connect, create a dialogue and embrace the changes of parenthood together. We aim to create a lasting community for the city of Thai and Expatriate women.
The first ever Lily Festival will be taking place at the beautiful SIRI HOUSE, Bangkok which will host a day of Wellness, Talks, Workshops, Arts & Crafts and a Market this August 11th, 2019.
The Lineup:
➩ WELLNESS
Core Connection™ Yoga & Pilates Class | Minyoung Kim, International pre/postnatal yoga & pilates master trainer
Aqua Natal Class | Bangkok Kids
➩ TALKS
Topic: 'Gender Equality & Respectful Society Starts in the Home' Cindy Sirinya Bishop.
Topic: 'Raising Kids With a Winning Mindset: A Mindful Approach' Natalie Glebova.
Topic: ' Coping and Moving Forward' Kornkamol ' Loukkaew' Chitapong.
Topic: 'The Truth About Getting Rid of Mummy Tummy - What's safe, What's not and the Top 5 Fitness Mistakes New Mothers Make.' Minyoung Kim, an International pre/postnatal yoga & pilates master trainer,
➩ WORKSHOPS
>>>>>>>>>>>>>>and much more!!!
➩ THE MARKET
Our Market place won't be just the typical collection of food stands and refreshments which support all events of this caliber across the globe, oh no, we aim to target our audience's needs and introduce them to brands whom they might not have had the fortune of coming across in their daily lives. With a heavy focus on sustainability, we will be offering our guests the opportunity to discover and purchase numerous motherhood products from brands who promote innovation and are eco-friendly, and much more!
----------------------------------------------------------------
'Lily Festival'
เทศกาลความสุขของคุณแม่ยุคใหม่ จะว่าที่คุณแม่ คุณแม่มือใหม่ คุณแม่มือโปร หรือ คุณแม่ของคุณแม่อีกที... ไม่ว่าจะเป็นคุณแม่รุ่นไหน
งานนี้คือ Community ของทุกๆ คนที่เป็น "แม่"
งานที่ชวนแม่ๆ มาแชร์ประสบการณ์ อัพสกิลและใช้เวลากันอย่างอบอุ่น ผ่านกิจกรรมครอบครัวที่น่าสนใจในสไตล์เป็นกันเอง อาทิ
คลาสโยคะคุณแม่ และโยคะใต้น้ำ
พูดคุยกับบรรดาคุณแม่เซเลบในมุมมองต่างๆ รวมถึงเคล็ดลับการเลี้ยงลูกและสร้างครอบครัวคุณภาพ
เวิร์คช็อป DIY by คุณแม่คุณลูก
เวิร์คช็อป 'ภาษาอังกฤษดีๆ เริ่มต้นได้ที่บ้าน'
และกิจกรรมอีกมากมายที่สร้างรอยยิ้มและความสุขให้กับทุกครอบครัว
11 สิงหาคมนี้ (09.00 - 17.00 น.) ที่ 'SIRI HOUSE'
เดินทางสะดวกสุดๆ เพราะใกล้ BTS ชิดลม (หรือถ้าครอบครัวไหนขับรถมา จอดรถที่เซ็นทรัลชิดลมได้เลยค่ะ เดินต่อแค่ 10 นาที ก็ถึง SIRI House)
และที่สำคัญที่สุด >> กิจกรรมนี้ฟรี!!! ทั้งครอบครัว แต่!! ต้อง RSVP ลงทะเบียนก่อนมาร่วมงานนะคะ ทีมงานจะได้สำรองที่นั่ง และดูแลต้อนรับได้อย่างทั่วถึงค่ะ