We're excited to welcome Nashville singer-songwriter LILLY WINWOOD to Syracuse for the very first time on April 29.
About this event
In 2015, Lilly Winwood needed a vacation. The countryside of her native Gloucestershire, England felt too familiar, and London was, in her own words, "so big, so expensive, and reeked of havoc and loss and all that good stuff." So Winwood hopped on a plane to Nashville, where she'd spent childhood summers visiting her mother's family. The plan was to come back to England after a few weeks—but the vacation never ended.
Silver Stage, the debut EP from Lilly Winwood (daughter of classic rock legend Steve Winwood) chronicles this journey through earnest coming-of-age narratives and a sound that—much like her father's work—offers an English take on traditional American roots music. Backed by Nashville-via-Australia producer Joshua Barber (Gotye, Archie Roach), the songs on "Silver Stage" blend Bonnie Raitt's world-weary vocals, My Morning Jacket's ethereal twang, and Brittany Howard's no-bullshit bravado to create an EP that pays homage to Lilly's singer-songwriter idols (like John Prine) and establishes the twenty-one-year-old as a writer that's wise beyond her years. For evidence, look no further than standout track "Safehouse," a slow-burning, soulful meditation on adolescence that explores the bittersweet nature of growing up.
It's no surprise that Lilly sounds at home on Silver Stage, though, considering she's played music for most of her life. She's written songs since her early teens (she wrote "London," a song about an ex moving to the city, when she was fifteen), and she grew up playing in bands with her brother, Cal. Shortly after she began touring at age sixteen, and in 2016, she recorded a duet of "Higher Love" with her dad for a 2016 Hershey's commercial, which Adweek lauded as "a true anthem spot."
Following the release of Silver Stage, Winwood has continued on to collaborate with fellow East-Nashville-based Americana artists such as Boo Ray, with the release of their A-side/ B-side vinyl collaboration series with the A-side being upbeat and whimsical single 'Hard to Tell' and the B-side being a cover of the late Kenny Rogers and Dolly Parton's 'Islands in the Stream'. Boo Ray describes Winwood to SideWays Media 'as clever like a safe-cracker, cooler than a polar bear's toenails, and has a wonderful uproarious laugh. She's a world-class vocalist and smart soulful songwriter'.
Lilly also collaborated with Nashville-based Americana artist Don Gallardo on his 7-track EP 'In the Name of Good Intentions' where Lilly's vocals are featured on more than half of the songs. Rolling Stone deemed Winwood and Gallardo's 'Shine a Light on Me' one of the 'Top 10 Best Country, Americana songs to hear now' in 2019, amongst Trisha Yearwood and Tanya Tucker. Winwood and Gallardo spent the majority of 2019 touring together in both the UK and the US, featuring on Chicago's WGN-TV morning news as well as Nashville's 'Today In Nashville'.
This is a listening room style show
DOORS: 6PM   SHOWTIME: 7PM
The 443 has a $15 per person/seat required minimum purchase for our shows, which can be any combination of food and drink.
In order for the 443 to operate at full capacity, we are limiting our guests to those who are fully vaccinated for COVID-19. Attendees must show proof at the door upon arrival.
The 443 is an 18+ venue
We have 4 options for our ticketed performances:
PREMIUM TABLES FOR TWO
Regular height table for TWO PEOPLE (18 available), Back row is bar height tables (4 available)
IMPORTANT NOTE: 1 ticket = 2 seats. Each Premium Table admits TWO people to the show.
STAGE TABLES FOR TWO
Regular height table for TWO PEOPLE directly in front of the stage (3 available)
IMPORTANT NOTE: 1 ticket = 2 seats. Each Premium Table admits TWO people to the show.
PREMIUM SINGLE  at Bar
Single barstool at the bar directly across from the stage (4 available)
General Admission SINGLE
Our general admission area has 13 high-top tables with barstools. If you buy a single GA single ticket, you are guaranteed a stool and table, but you may be seated with other GA ticket holders in order to maximize seating.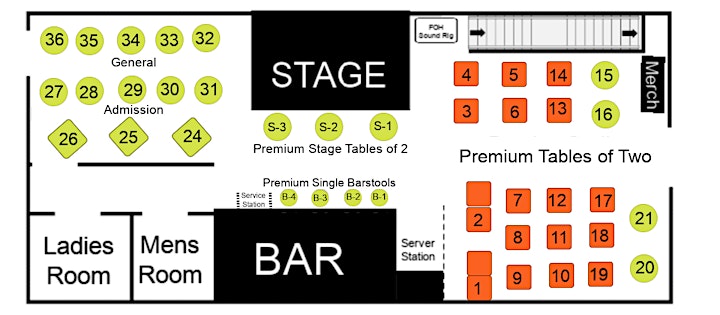 Organizer of Lilly Winwood at The 443
The 443 Social Club & Lounge (formerly The Listening Room at 443) is a creative and eclectic live musi venue located in the Hawley Green neighborhood in Syracuse, NY. We feature live original music, with a focus on Americana, roots, folk and bluegrass plus jazz and blues. Our capacity is 85 people.