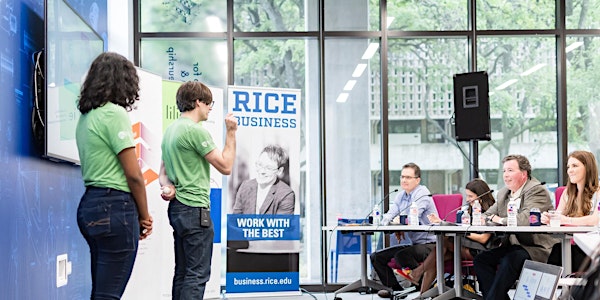 Lilie MBA Entrepreneurship Course Info Session #1- Fall 2021
Join Lilie to learn about the Fall 2021 entrepreneurship course offerings. This is a private event for Rice MBAs only.
About this event
Join Lilie for an informational session to learn about the upcoming Fall 2021 course offerings and how they can help you accomplish your entrepreneurship goals. Professors Panahi, Danto, and Hochberg will be on hand to field questions about all of our fall course offerings and any other burning entrepreneurship questions. Course registration opens on 4/19, so make sure you get all the information you need to plan for your entrepreneurial journey.
NOTE: Lilie will be running two sessions (4/12 & 4/14 from 4-5PM) to accommodate students' schedules.
Fall 2021 Lilie Entrepreneurship Courses (subject to change until 4/5):
• MGMT 799- Healthcare Innovation and Entrepreneurship: This is the go-to starting point if you are looking to launch a medical device or digital health solution, or if you are interested in being in the medical innovation space alongside team members from medicine, engineering, and business. This team-based course is led by experienced MD and PhD entrepreneurs who will help you navigate the special intricacies of creating and innovating in the healthcare setting (like FDA approval). Application only.
• MGMT 621- The New Enterprise: Our flagship entrepreneurship course leads students through the first steps of developing a venture (for-profit or non-profit). It is a hands-on course that focuses on ensuring you are building the right solution to solve the right problem. Note: Students looking to explore healthcare ideas should apply to MGMT 799 Healthcare Innovation and Entrepreneurship.
• MGMP 626- Financing the Startup Venture: If you are even remotely interested in a career in venture capital, this is your starting line. This course will give you the base of knowledge you need to obtain internships with VC firms, participate in the Venture Capital Investment Competition, or understand how to steer your venture-backed startup through funding.
• MGMT 626- Venture Capital: Students will dive into the organization and operation of venture capital funds, investment methodology, and portfolio management.
• MGMT 627- Enterprise Acquisition: This course pulls back the veil on the whole process of finding and purchasing an existing business. Students will learn how value a business, explore funded and unfunded searches for acquisition, and hear from those who have both bought and sold businesses.
• MGMT 701- Marketing Experimentation: Learn how to gather actionable information from your customers via experiments and surveys. The first part of the course will focus on measurements: what you want versus what you can get. In the second half, students will run actual surveys or online experiments and present the outcomes.
• MGMT 760- Venture Capital E-Lab: Want to gain real world experience in VC by working 8-12 hours a week at a firm? Then this course is for you. Students must be available during normal working hours to participate. Application only.
• MGMT 762- New Enterprise E-Lab: This course is for students who took MGMT 621 or 927 and are looking for structured mentorship from professors and personalized curriculum to push an idea forward to launch.
• MGMT 833- Strategy in Tech Ecosystems: Explore platform creation, network effects, coping with disruptive innovation, and understand how technology can create new markets and revolutionize existing ones.
• MGMT 927- The New Enterprise: This course is only for Executive MBA students.