Description
Liliana Velasquez Montoya has no hair on her tongue. She is a performer (dancer, actress, model) currently based in the city of. The first of 5 children she always dreamed of leaving her wonderful, beautiful caring Catholic home, to explore and be on her own (relatively) wild self-discovery. A woman raised on the continent of America moving back and forth from Colombia to the USA, she is a Latina incognito (light-skinned enough). Able to learn about diverse cultures thru the immigrant struggle of her parents.
Liliana Velasquez is an anchor baby! Crossing the border between 1st world and 3rd world all her life. The American Dream her parents taught her was "you can be anything". The religious Catholic background taught her otherwise. Being a woman never stopped her from doing it her way. Liliana shares her loves, her aches and her transformation into an independent thinking woman. She is proud to be queer and not perfect.
In her twenties, she moved to NYC to pursue Fashion, but life is not always what we plan. Thru the adventurous streets, galleries, museums, clubs, and excitement of NYC, she found that her creativity was being fuelled thru dance, theatre, painting, modeling and finding her voice in stand up comedy. Facing the challenges of regular everyday life. The artist in the grind. Today she is starting a new and yet the same life in Berlin.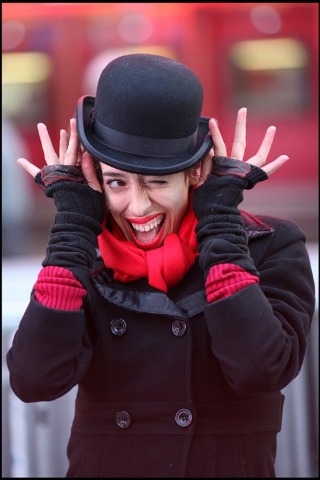 Her credits and pull quotes are up in the wind much like her spirit. Not a woman to follow the already preset path, She likes to stomp and dance her way thru life
After Party with Special Musical performances by legendary Wynton Kelly Stevenson & Jos van Oost