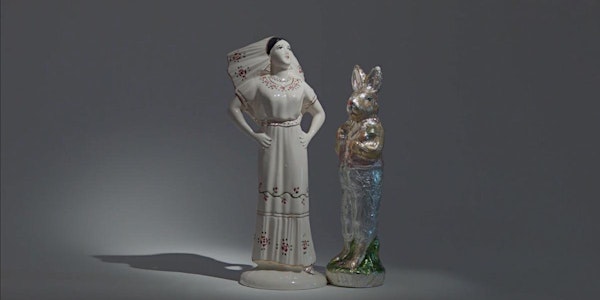 Liliana Porter: The Riddle /Charada & Ben McLaughlin: Ex Libris
Join us in the gallery on Saturday, March 13 for the opening reception of Liliana Porter: The Riddle / Charada & Ben McLaughlin: Ex Libris
When and where
Location
Hosfelt Gallery 260 Utah Street San Francisco, CA 94103
About this event
Join us in the gallery on Saturday, March 13 for the opening reception of Liliana Porter: The Riddle / Charada and Ben McLaughlin: Ex Libris
Liliana Porter: The Riddle/Charada
Hosfelt Gallery presents the world premiere of Porter's most recent video, which features an idiosyncratic cast of characters culled from her ever-evolving collection of toys and figurines that she finds in flea markets, antique stores, and souvenir shops. The narrative is constructed from a sequence of vignettes wherein these characters interact in unexpected and darkly humorous ways, accompanied by an evocative soundtrack.
To elucidate the conceptual and philosophical foundations of Porter's work, accompanying the film are a group of seminal prints made in the 1960s and '70s.
Ben McLaughlin: Ex Libris
London-based figurative painter Ben McLaughlin presents his latest body of small oil-on-panel works in the artist's first exhibition at the gallery since 2014. Ex Libris includes work completed between 2019 and 2021, a period of increasing global precariousness on many levels. The muted palette and abruptly cropped scenes in these miniature paintings summon fragmented recollections of a less tumultuous time and place.
The titles of the works come from the books he grew up with from his parents' library, though intentionally unrelated to the subject depicted. This disconnect between title and image allows the work to hover in a zone of continually shifting meanings. Some scenes feel bucolic, others slightly sinister; in conjunction with the titles, each conjures an open-ended, multivalent narrative in the mind of the viewer.