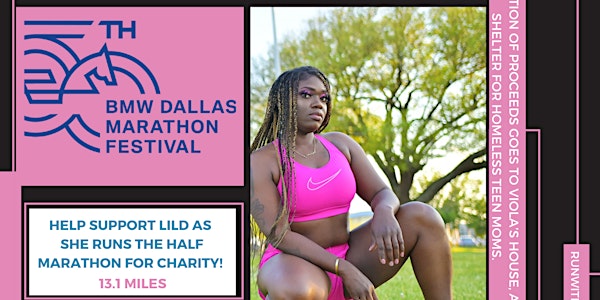 lilD is Running a Half Marathon for Charity!
Help support lilD as she runs a half marathon (13.1 miles) for charity!
About this event
I'm training for my second half marathon, and this time, I want you to (virtually) run with me, by running the check!
The BMW Dallas Marathon Festival is December 12, 2021. I'm running these 13.1 miles for the young ladies at Viola's House, a shelter for homeless teen moms and moms-to-be. I've been partnering with them since 2019, creating a mini spa for the moms each year on Valentine's Day. Learn more about them here.
In 2011, I experienced homelessness for a few months while chasing my radio dreams. I wrote a book about it; the cover is below. The gamble paid off, and I'm so grateful. Now in everything I do, I want to honor those still in the struggle.
Will you join me and help support a good cause? A portion of the proceeds will go directly to Viola's House. There are several ways to support, so see please see the option that works best for you. Thank you in advance for your support of myself and everyone still fighting through homelessness.
*This promotion is in no way associated with, or endorsed by, the BMW Dallas Marathon Festival.*