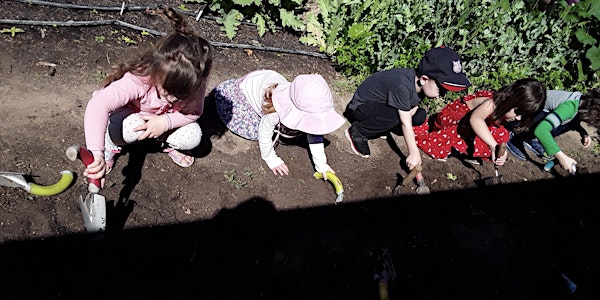 Lil' Sprouts - Fall 2022
Hands-on fun in the garden at Tucson Village Farm for 2-5 year olds and their grown-ups!
When and where
Location
Tucson Village Farm 4210 North Campbell Avenue Tucson, AZ 85719
Refund Policy
Refunds up to 7 days before event
About this event
Lil' Sprouts is a hands-on, early childhood education program for pre-school aged children. During the Lil' Sprouts sessions, children and their accompanying grown-ups have the opportunity to spend time in the garden, try new foods, and learn about the natural world around them. The program is filled with investigation, discovery, exploration, and most importantly fun! Each activity is thoughtfully chosen and facilitated to guide and encourage the cognitive and emotional development that young children are continuously experiencing.
Session Timings:
Ages 2-3: 9am-10am
Ages 4-5: 10:30am-11:30am
Session 1 (Fall):
October 7: Leaf it to Me: Lettuce discover the glorious garden greens as the leaves on the trees change.
October 14: The 5 senses: Let's get in touch with our five senses: what do we feel, smell, taste, hear, and see on the farm?
October 21: Planting Party: Farming is hard work and we could use all the hands we can get!
Session 2 (Fall):
October 28: Pumpkins, Pumpkins Everywhere! It's fall at the farm, and that means pumpkin everything.
November 4: The Chicken and The Egg. Meet our feathered friends, and learn about who lays our lovely eggs!
November 11: Farm Friendsgiving! Join us as we give thanks to our FARMily and the food we harvest.
Session 3 (Winter):
December 2: Farm-to-Table Cooking Class: Come make a delicious treat from the veggies we eat!
December 9: Crawling Caterpillars to Beautiful Butterflies: Let's learn about the stages of transformation from caterpillars to beautiful butterflies. Farm-to-Table Cooking Class: Come make a delicious treat from the veggies we eat!
December 16: Friendly Farm Animals: Come meet and learn about our friendly farm animals!