Lil BUB Meet and Greet

Friday, August 15, 2014 from 3:00 PM to 6:00 PM (CDT)
Event Details
Meet the world famous Lil Bub!
Lil BUB is coming to the Twin Cities for the Internet Cat Video Film Festival and will be holding a Meet and Greet benefitting Feline Rescue, Inc. and Lil BUB's Big FUND for special needs pets.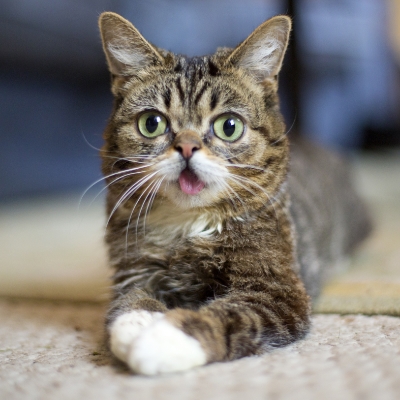 Tickets:
100% of the proceeds from this event benefit animals in need. The total will be split 50/50 between Feline Rescue and Lil BUB's Big FUND.
General Admission ($25) - Meet Lil BUB and have your picture taken with her, plus receive a limited edition, personalized and signed photo print of BUB exclusive to this event.  **Option to upgrade to Premium at the door (cash or check only)
General Admission - Premium ($50) - Meet BUB, take a photo with her, receive the personalized and signed photo print, and best of all... you get to pet BUB, and even kiss her if you like! Petting BUB brings great fortune to the few that have the opportunity to do it PLUS your ticket helps raise so much more money for animals in need
Lil BUB is a very special, one of a kind cat with over 2,000,000 social media fans. Her events sell out across the country, so buy your tickets early as we have to limit BUB's day to 200 fans. These events are limited to 200 people because BUB's safety, health and comfort are a priority, and 200 is as many people she feels comfortable meeting in one sitting. The ticket prices may be steep, but that's because BUB wants to raise as much money as possible, and also because it's worth it. Petting BUB brings all who do it great fortune.
About Lil BUB: Discovered as the runt of a healthy feral litter in a tool shed in rural Indiana, she was taken in as a rescue when it was clear that she would need special care. BUB was born with a multitude of genetic anomalies which all add up to one of nature's happiest accidents, as BUB is the most unique cat in the world and will remain a permakitten! Since then BUB has overcome great challenges and is a published author, a talk show host, a movie star and an advocate for homeless and special needs pets, helping raise well over $100,000 for animals in need.
When & Where

Bethel Lutheran Church
4120 17th Ave S
Minneapolis, MN 55407


Friday, August 15, 2014 from 3:00 PM to 6:00 PM (CDT)
Add to my calendar
Organizer
Feline Rescue, Inc. is a Minnesota based no-kill companion cat rescue organization. Our founders established Feline Rescue in 1997 in Minneapolis, MN as a 501(c)(3) non-profit organization. We are a volunteer based organization. Feline Rescue, Inc. is funded exclusively through donations and grants. We receive no municipal, state, or federal funding.
We provide rescue and relief to the homeless and endangered cats in our community through programs that offer shelter, foster, social and medical rehabilitation, feral and stray management, spay/neuter subsidy, and community education.
Our mission is to provide safe shelter, veterinary care, and socialization for stray, abandoned, or abused cats until good permanent homes can be found for them. Our mission does not enable us to accept owner surrendered animals.