Description
LIVE AND STREAMING ONLINE MULTI-MEDIA PERFORMANCES FEATURING MORE THAN 50 ARTISTS CREATING TO HEAL AND SHINING THEIR LIGHTS!
Prepare to be inspired, uplifted, and moved, as passionate authors, artists and musicians who use creativity to heal speak from the heart and shine their lights, sharing personal stories, songs, and art at a special live, and streaming online, multi-media event. Features live performances by nine artists (primarily from the San Francisco Bay Area) and includes an hour of video highlights from conversations recorded with 45 artists, musicians, and authors from around the world who are creating to heal
.
---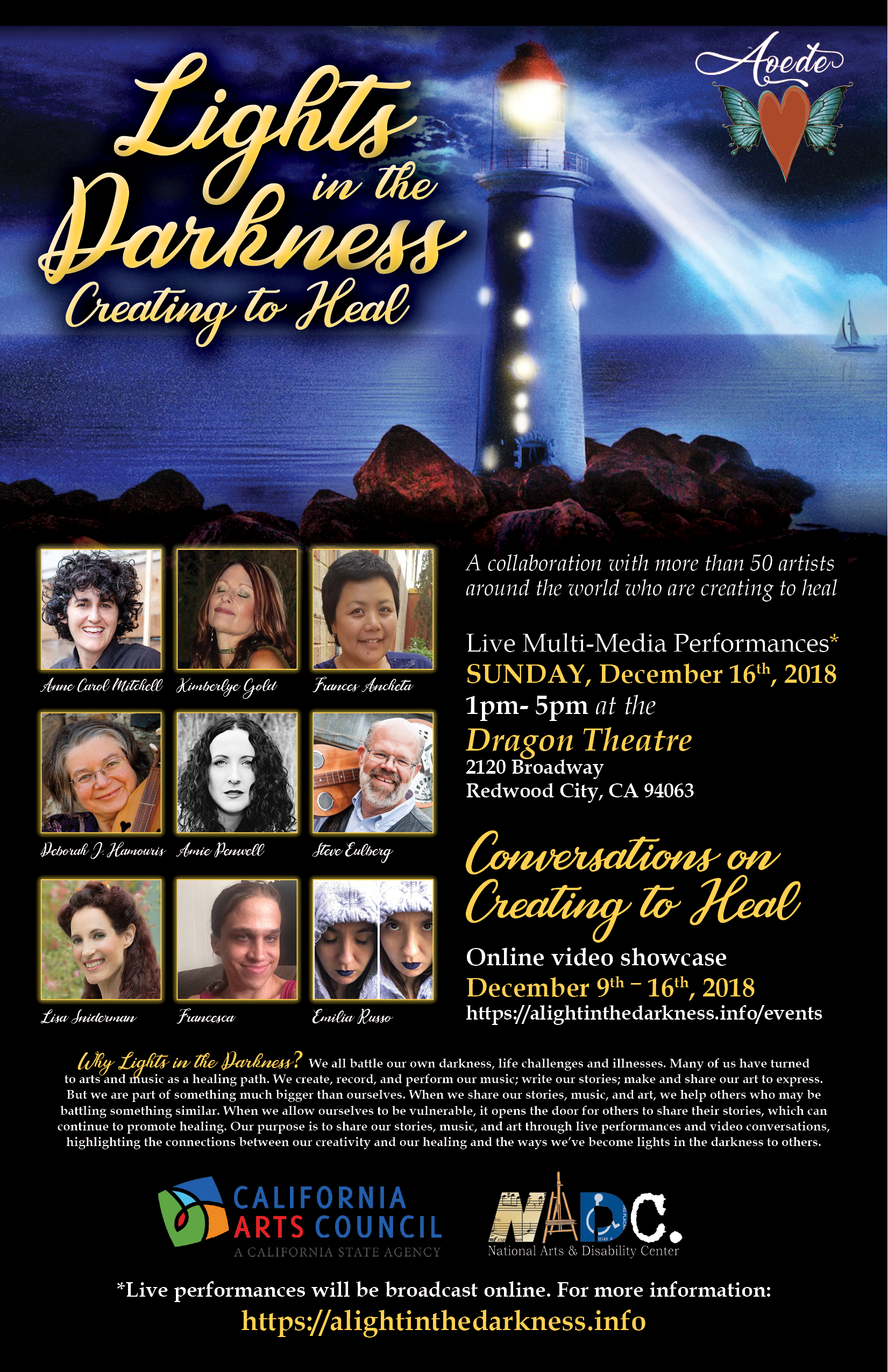 ---

Live Performances Featuring:*
ANNE CAROL MITCHELL
KIMBERLYE GOLD
FRANCES ANCHETA
DEBORAH J. HAMOURIS
AMIE PENWELL
STEVE EULBERG
LISA SNIDERMAN
FRANCESCA
EMILIA RUSSO


ANNE CAROL MITCHELL is a nature-based songwriter and composer who crafts sounds from the earth. Her story is creating feeling states where stories and landscapes come alive through her music. See: https://annecarol.com/
KIMBERLYE GOLD is a singer/songwriter who honed her craft living in the trenches of LA/NY/Nashville for decades. Her story is battling a rollercoaster of chronic situational depression/anxiety and other stress related challenges, and finding joy, gratitude, love and connection from playing her music for seniors and being of service to other folks in need. See: https://www.facebook.com/kimberlye.gold
FRANCES ANCHETA is a singer songwriter, acoustic musician, and creative arts/recreation therapist from San Francisco. Her story is one of surviving both post partum depression and breast cancer, exploring themes of life observation, self introspection and acceptance, and diversity and inclusion for all. See: https://www.francesanchetasongwriter.com

DEBORAH J. HAMOURIS is a performer, composer, songwriter, teacher, choral director, event producer and community organizer. Her story was going through the shock of breast cancer diagnosis, followed by a year of treatment and writing songs, which became "1 in 8": music and stories to illuminate the experience of a cancer patient. See: http://www.djhamouris.com/
AMIE PENWELL is a singer-songwriter who combines elements of Rock, with dashes of R&B and Soul who believes all of us are trying to better navigate and understand our roles, plights, masks, defenses, and reactions to this world. Her story is using her music to give voice to our own truths, realities, power, fear of that power, and need to admit powerlessness before true change proceeds. See: http://www.amiepenwell.com
STEVE EULBERG is a folk musician, singer-songwriter and music educator. His is a story of how art and singing daily with children have helped him to process and overcome thyroid cancer and the fear of losing his voice from the resulting surgery, and regain what he has lost. See: http://patreon.com/steveeulberg
LISA SNIDERMAN is an award-winning artist known as Aoede, playwright and author. Her story is battling a rare progressive muscle weakness disease for more than 10 years while obsessively creating to heal, and becoming a light to others struggling with chronic illness, disability or life challenges. (with DAVID SANDS) See: https://alightinthedarkness.info
FRANCESCA is a performing artist known as Francesca della Luna Invernale. Her story is one of struggling with her gender identity for most of her life, coming to accept herself only after an attempt on her life by her own hands.
EMILIA RUSSO is a poet and an activist against sexual violence. Her story is surviving two sexual assaults, as well as slowly discovering her own resilience. See: https://www.instagram.com/starfire1408/
*Performers/Order subject to change
---
---
Why Lights in the Darkness?
We all battle our own darkness, life challenges and illnesses. Many of us have turned to arts and music as a healing path. We create, record, and perform our music; write our stories; make and share our art to express. But we are part of something much bigger than ourselves. When we share our stories, music, and art, we help others who may be battling something similar. When we allow ourselves to be vulnerable, it opens the door for others to share their stories, which can continue to promote healing. We are lights in the darkness.
I am Lisa Sniderman, an award-winning folk pop artist known as Aoede, author and disabled playwright who also has been battling a rare chronic illness-a progressive muscle weakness disease (dermatomyositis) since 2008 and obsessively creating to heal. I was inspired to write my memoir: "A Light in the Darkness: Transcending Chronic Illness through the Power of Art and Attitude" (Sep 21, 2018 Crimson Cloak Publishing), spanning 10 years living with chronic illness and creating to heal, to speak to and inspire those living with chronic illness, disability, and unexpected life challenges. When I considered how to share my story, I realized I wanted most to collaborate with other artists who were creating to heal.
In May, I put out a call to passionate musicians and artists who have also turned to creativity to help them heal to collaborate on a special "Lights in the Darkness" event in December 2018, focused on shining our lights and the art of healing. I was so overwhelmed by interest and offers to participate that I started a Facebook community: "Lights in the Darkness-Creating to Heal," which has grown to more than 160 artists. This December 16th special "lights in the darkness" event will be an opportunity for me to also share my own "A Light in the Darkness" story through a unique live/streamed musical performance and book reading.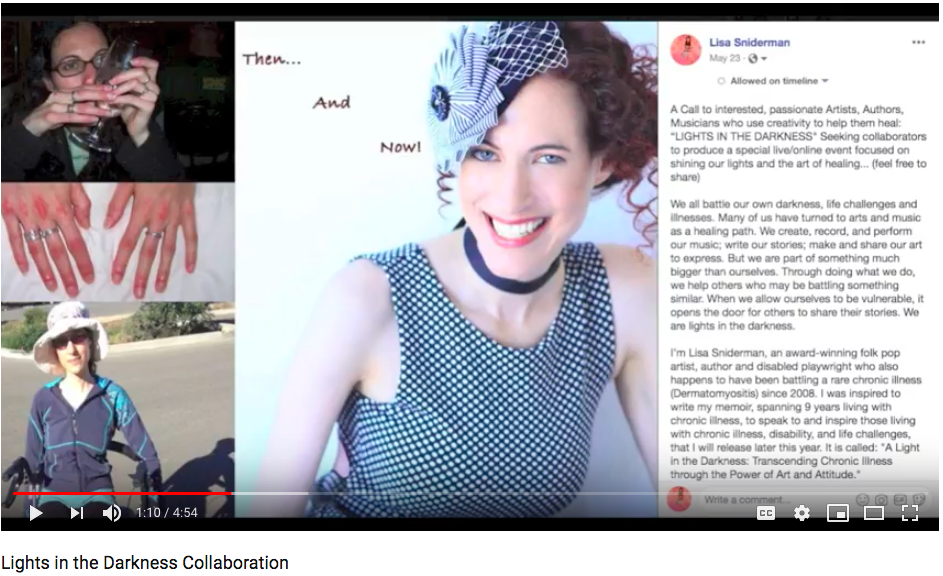 ---
Inspiration for 'Conversations on Creating to Heal' Videos
One piece that was important to me was giving everyone who was interested access to participate and share their stories, which can't easily happen with one live performance in one geographic location. I also wanted you to be able to watch and have internet access from wherever you are. This prompted me to offer to include participation via video and to stream the live event. Because of such strong interest, between August and November, I interviewed via video 45 artists, musicians and authors from around the world who use creativity to heal, and will share all of the 'Conversations on Creating to Heal' videos in an online showcase between December 9th and December 16th at: https://alightinthedarkness.info/videos, as well as showing/streaming an hour of video highlights during the December 16th event. See Video for more on the spark for the lights in the darkness collaboration: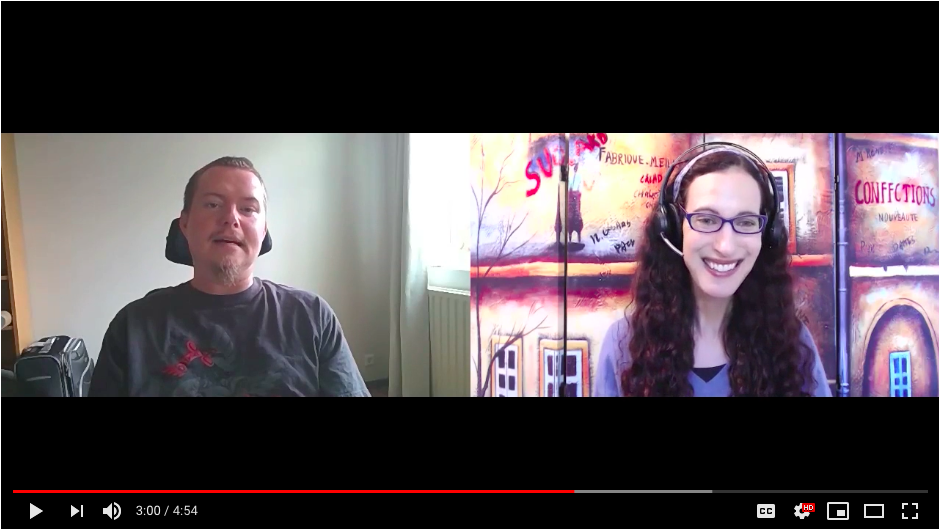 ---